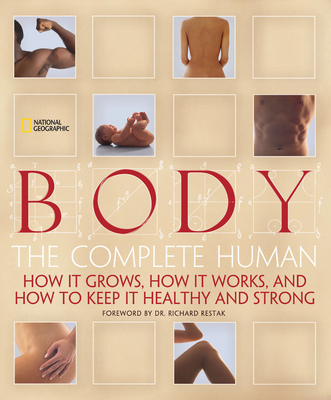 Body (Hardcover)
The Complete Human
National Geographic Society, 9781426201288, 416pp.
Publication Date: October 16, 2007
* Individual store prices may vary.
Description
Ideal for families, students, and anyone who's interested in maintaining good health, Body engagingly reveals the complex and fascinating systems of the human machine;from head to toe, cells to skin, inner workings to outward appearance.
Organized by body system, the chapters offer a balanced combination of basic anatomical and physiological information. Noted science writers Lisa Stein, Trisha Gura, and Patricia Daniels provide descriptions that are clear, accurate, and accessible to readers on every level. Colorful diagrams, amazing photographs, and miraculous 3- and 4-dimensional imagery;generated by cutting-edge tools;complement the text. The drawings of visionaries such as Leonardo Da Vinci illustrate historic advances in medical science.
Special-topic sidebars address today's most relevant concerns: Keeping Healthy, What Can Go Wrong, Medical Breakthroughs, and more. Fact boxes feature eye-catching items that appeal to readers' curiosity: how Botox works, what "blue blood" means, why Joe Namath's knees are famous.
For easy reference, each chapter includes its own glossary of terms. Valuable cross-referencing tools guide readers to related information throughout. An appendix offers a full glossary, timeline of medical discoveries, and biographies of key pioneers in the field.
Enhancing this book's authority are a foreword by acclaimed neurologist Richard Restak, bestselling author of 18 books on the brain; and the guidance of advisers from prestigious medical establishments.
Comprehensive, reliable, impeccably researched, and a pleasure to read, Body is the essential health resource for every home and library.
About the Author
Patricia Daniels has written extensively on science and health. Among her publications are Human Body, Childhood Medical Guide, Medical Advisor, Caring for Your Parents: The Complete AARP Guide, and the National Geographic Encyclopedia of Space. Trisha Gura is a molecular biologist and former journalist for the Chicago Tribune. She earned a Knight Science Journalism Fellowship at MIT and Harvard. Today, she is a resident scholar at Brandeis University, a freelance writer, and author of Lying in Weight: The Hidden Epidemic of Eating Disorders. Susan Tyler Hitchcock has written 13 books, including National Geographic's Geography of Religion. Her most recent book is Frankenstein: A Cultural History. She currently works as an editorial project director for the National Geographic Society. Lisa Stein is an online news editor with Scientific American. She was formerly deputy national editor at U.S. News and World Report. In addition, Stein has written and edited for many media outlets, including TV Guide (as Washington bureau chief) and National Journal. John Thompson has a background in English and biology. He is author of nine National Geographic books. He was editor for The Journals of Captain John Smith: A Jamestown Biography and is now working on a book about the western Dakotas. Stefan Bechtel is the author or co-author of seven books, which have sold two million copies and been translated into ten languages. His latest, Roar of the Heavens, is about Hurricane Camille. Richard Restak, M.D., is a neurologist and bestselling author of 18 books, including The New Brain. He is clinical professor of neurology at the George Washington University Medical Center School of Medicine and Health Services, has served on many national advisory councils for brain research, and has been a consultant for NBC's Today show.