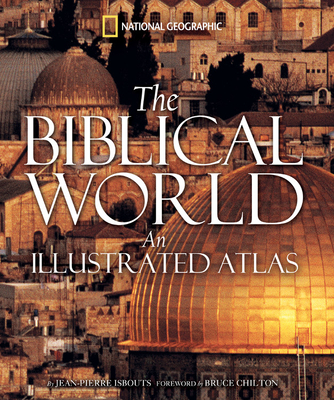 The Biblical World: An Illustrated Atlas (Hardcover)
An Illustrated Atlas
National Geographic Society, 9781426201387, 367pp.
Publication Date: November 6, 2007
Description
Casting the tumultuous history of Judaism, Christianity, and Islam against the rich canvas of the Near East, The Biblical World reveals how three great religions emerged from the same cradle. Author Jean-Pierre Isbouts employs a non-denominational perspective and a wide range of sources--from ancient hieroglyphic texts to the latest scientific findings--to place Bible stories in the framework of history. Chronologically arranged chapters detail battles, conquests, tribal migrations, natural calamities, and more, supporting the stories with intriguing archaeological evidence. To locate sites and events, National Geographic cartographers have created fifty all-new maps of stunning quality. Hundreds of photographs and artifacts add visual excitement. Quick-read timelines link events across cultures while illustrated sidebars focus on what life was like during each era: family roles, farming, trade, dress, childbirth, burial customs, and other aspects of daily existence. The story traces the evolution of Judaism from Abraham to the Unified Kingdom of Israel... chronicles the emergence of Christianity in the context of Greco-Roman civilization... and identifies the unique circumstances that prepared for the rise of Islam. The multi-dimensional approach weighs similarities and differences among the three faiths and follows developments in nearby lands. With a foreword from bestselling author Bruce Chilton and text reviewed by distinguished advisers, The Biblical World offers a carefully researched, balanced view of history and religious tradition. For its scope, beauty, and relevance in today's world, this unparalleled atlas is destined to become a classic.
About the Author
Jean-Pierre Isbouts holds a Ph.D in archaeology and art, and is currently Professor of Culture and Media Studies at Fielding Graduate University in Santa Barbara, CA. He is the writer and producer of four programs that explore the legacy of the Bible, including the award-winning television mini-series The Quest For Peace.
Advertisement