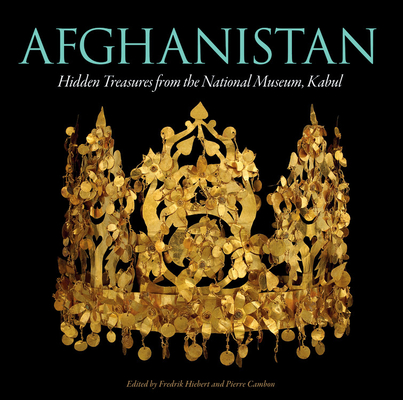 Afghanistan (Paperback)
Hidden Treasures
National Geographic, 9781426202957, 304pp.
Publication Date: May 20, 2008
* Individual store prices may vary.
Description
Almost 30 years ago, a precious trove of art was spirited away from the National Museum of Afghanistan by a small group of "keyholders" —museum guards, curators, and antiquities lovers who risked their lives to save the country's cultural treasures. Their actions spared these magnificent pieces from the threat of destruction, first by the invading Soviets in 1979 and more recently by the Taliban. Exquisitely crafted in gold and ivory, the artifacts illustrate Afghanistan's key place at the crossroads of Europe, the Middle East, and Asia, at the center of the ancient Silk Road—a rich heritage to be displayed at four major U.S. museums through 2009. Crowning this headline-making exhibition is a famous hoard of Bactrian gold, considered to be one of the greatest archaeological discoveries of the 20th century.

To help create the exhibit and book, archaeologist and National Geographic Society Fellow Fredrik T. Hiebert inventoried the artifacts at the request of the Afghan government. Gorgeously photographed and elegantly packaged, the collection shines in this official companion to the much anticipated and widely covered tour.

For the eager audiences who will visit, and for legions of art and history lovers across the United States, Afghanistan: Hidden Treasures provides a beautiful, affordable keepsake, a handsome gift, and a rare opportunity to appreciate this matchless tradition of artistry and the steadfast human spirit that preserved it.
About the Author
Fredrik T. Hiebert is an archaeologist and explorer who has traced ancient trade routes overland and across the seas for more than 20 years. He has led excavations at ancient Silk Road sites across Asia, from Egypt to Mongolia and rediscovered the lost "Bactrian Gold" in Afghanistan in 2004. His excavations at a 4,000-year-old Silk Road city in Turkmenistan made headlines around the world. Hiebert joined the National Geographic Society in 2003. He is the author of The Origins of Oasis Civilization in Central Asia (1994), A Central Asian Village at the Dawn of Civilization (2006) and Qal'at al-Bahain: A Trading and Military Outpost (2006).

Pierre Cambon is the chief curator of the Heritage of the Afghan/Pakistan Section of the Guimet Museum of Asiatic Arts in Paris, France. He is the editor of two books on the ancient cultures of Afghanistan: Afghanistan: Une Histoire Millénaire (2002) and Afghanistan: Les Trésors Retrouvés (2007) based on exhibitions at the Guimet Museum.