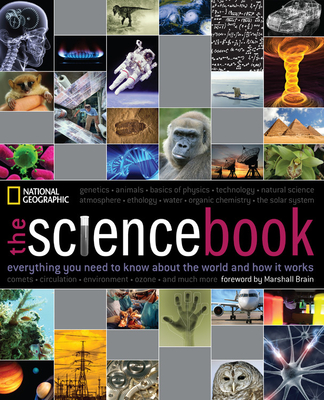 The Science Book: Everything You Need to Know about the World and How It Works (Hardcover)
Everything You Need to Know about the World and How It Works
National Geographic Society, 9781426203374, 431pp.
Publication Date: October 21, 2008
* Individual store prices may vary.
or
Not Currently Available for Direct Purchase
Description
A delight for the casual reader, yet so complete and wide-ranging that science buffs and students will welcome it, The Science Book encapsulates centuries of scientific thought in one richly illustrated volume. Natural phenomena, revolutionary inventions, and the most up-to-date investigations are explained in detailed text, and 2,000 vivid illustrations--including 3-D graphics and pictograms--make the information even more accessible and amazing to discover. The Science Book offers both a general overview of topics for the browsing reader and more specific information for those seeking deeper insight into a particular subject. Six major sections, ranging from the universe and planet Earth to biology, chemistry, physics, and mathematics, encompass everything from microscopic life to nuclear power--with particular attention given to subjects in the news today, like climate change and genetic engineering. The innovative organization allows for quick reference, while numerous fact boxes and cross-references emphasize the many links among modern scientific fields. Visual elements make even the most involved discussions easy to understand. The successes of National Geographic's Visual History of the World and The Knowledge Book underscore the market for accessible resources such as this. Attractively priced for gift-giving and loaded with essential information, The Science Book will shine as an indispensable family reference.
About the Author
Marshall Brain is the founder of the award-winning website HowStuffWorks.com. A graduate from Rensselaer Polytechnic Institute, he earned his master's in computer science from North Carolina State University, where he later taught. Named one of the Carolina's top entrepreneurs by Ernst & Young, Brain is also a distinguished speaker and author of more than a dozen books, in which he masterfully simplifies complex subject matter into a digestible format for people of all ages and experience levels. From the Trade Paperback edition.
Advertisement