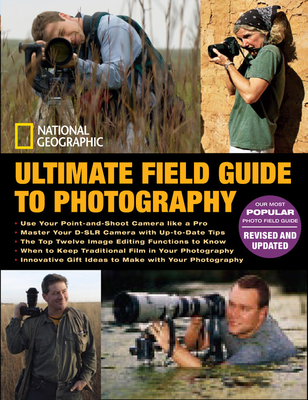 Ultimate Field Guide to Photography (Paperback)
National Geographic Society, 9781426204319, 399pp.
Publication Date: April 21, 2009
Description
Straightforward and entertaining, this is the ultimate source for people seeking real how-to advice from the editors and photographers of National Geographic. It is carefully designed to lead the amateur photographer to better pictures and is comprehensive in scope, explaining the entire process from choosing a camera to taking the pictures to printing, scanning, and archiving the images. The National Geographic Ultimate Field Guide to Photography spells out the basics of fine photography--whether you are using a digital SLR or a film camera--as well as more advanced techniques for the amateur photographer. From the top twelve color moves to creative gift ideas to quality camera phone photography, this guide will not only inspire you but also arm you with the practical know-how to get great images. It is the indispensable reference for photographers everywhere.
About the Author
"If a picture is worth a thousand words, then National Geographic has an unlimited vocabulary...How do they do it? This book gives you the answer." -- The Advocate
Advertisement