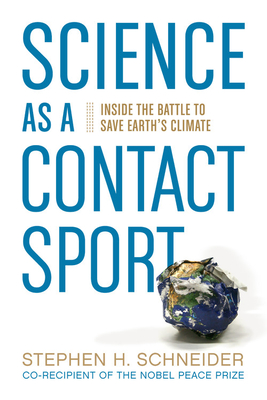 Science as a Contact Sport: Inside the Battle to Save Earth's Climate (Hardcover)
Inside the Battle to Save Earth's Climate
National Geographic Society, 9781426205408, 295pp.
Publication Date: November 3, 2009
* Individual store prices may vary.
or
Not Currently Available for Direct Purchase
Description
It's been nearly four decades since scientists first realized that global warming posed a potential threat to our planet. Why, if we knew of the threats way back in the Carter Administration, can t we act decisively to limit greenhouse gases, deforestation, and catastrophic warming trends? Why are we still addicted to fossil fuels? Have we all just been fiddling for 40 years as the world burns around us?
Schneider, part of the Nobel Prize winning team that shared the accolade with Al Gore in 2007, had a front-row seat at this unfolding environmental meltdown. Piecing together events like a detective story, Schneider reveals that as expert consensus grew, well-informed activists warned of dangerous changes no one knew how to predict preciselyand special interests seized on that very uncertainty to block any effective response. He persuasively outlines a plan to avert the building threat and develop a positive, practical policy that will bring climate change back under our control, help the economy with a new generation of green energy jobs and productivity, and reduce the dependence on unreliable exporters of oiland thus ensure a future for ourselves and our planet that's as rich with promise as our past.
About the Author
Stephen H. Schneider, PhD, winner of a MacArthur "genius grant," also won a joint Nobel Prize in 2007 with his colleagues on the Intergovernmental Panel on Climate Change. He has been an expert adviser to the Nixon, Carter, Reagan, Clinton, and both Bush administrations.
Praise For Science as a Contact Sport: Inside the Battle to Save Earth's Climate…
"Science As A Contact Sport unfolds the incredible true story of the struggle to understand the science and focus the world's attention on the climate crisis. I have worked with Steve Schneider on the scientific and policy aspects of climate change for decades, and find him adept at bringing scientific clarity to this critical issue--explaining its many facets to concerned policymakers and the public." -Al Gore

"Why haven't we halted global warming in the decades since it became recognized as a major threat to human well-being? What should we do to halt it now? In this crystal-clear, moving, funny book, Stephen Schneider makes a highly complex subject understandable." - Jared Diamond, author of "Guns, Germs, and Steel," and "Collapse"

"Stephen Schneider is masterful at translating enormously complex scientific principles into a language that we can all comprehend."—Robert Redford

"Give Stephen Schneider points for prescience...The ominous warnings that he and other climatologists sounded...are coming true
sooner.... –Newsweek.com
Advertisement