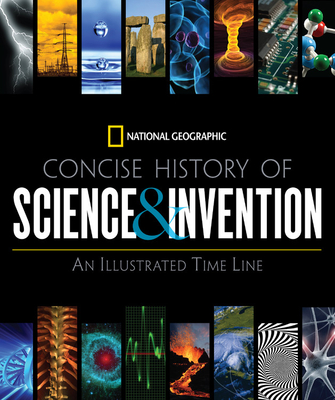 National Geographic Concise History of Science and Invention: An Illustrated Time Line (Hardcover)
An Illustrated Time Line
National Geographic Society, 9781426205446, 352pp.
Publication Date: October 27, 2009
* Individual store prices may vary.
or
Not Currently Available for Direct Purchase
Description
From the ancient conquest of fire and the first turn of a wheel to the latest in scientific leaps toward the stars, this easy-access history offers a panoramic perspective on humankind's restless quest for the laws, theories, and tools by which we can grasp and master our universe.
This concise, concentrated, consistently organized look at our species key scientific and innovative achievements spans all human history, presenting ten distinct eras from the first glimmers of intelligence to the cutting-edge technologies of the modern world. Within these intuitive divisions, all human scientific endeavors and achievement are divided into four general fields of inquiry and arrayed into four basic geocultural regions for easy comparison in a logical, systematic grid format highlighted by 350 photographs, maps, illustrations, and diagrams that add graphic emphasis to key information. Special two-page feature spreads explore the most revolutionary developments in greater depth; compelling, expertly composed essays and memorable quotations add sparkle; and informative sidebars provide specifically focused items of information about particular inventions, ideas, or themes. Completing this comprehensive approach, an extensive glossary explains unfamiliar terms, and a detailed index makes it a simple matter to follow a particular field or process from its origin through its complete cross-cultural evolution. This is a reference as usefully accessible as it is inherently fascinating.
About the Author
NATIONAL GEOGRAPHIC is one of the world's leading nonfiction publishers, proudly supporting the work of scientists, explorers, photographers, and authors, as well as publishing a diverse list of books that celebrate the world and all that is in it. National Geographic Books creates and distributes print and digital works that inspire, entertain, teach, and give readers access to a world of discovery and possibility on a wide range of nonfiction subjects from animals to travel, cartography to history, fun facts to moving stories. A portion of all National Geographic proceeds is used to fund exploration, conservation, and education through ongoing contributions to the work of the National Geographic Society.
Advertisement