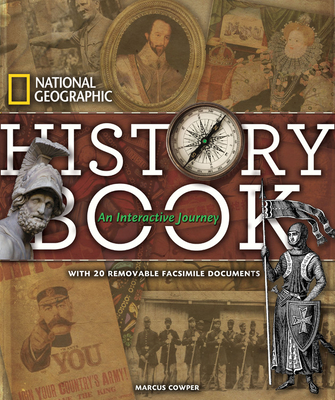 National Geographic History Book: An Interactive Journey (Hardcover)
An Interactive Journey
National Geographic Society, 9781426206795, 184pp.
Publication Date: October 18, 2011
Description
You won't find dusty topics and long-dead heroes and villains in the National Geographic History Book. Turn the pages and you'll find documents, letters, journals, telegrams, posters, and artworks that you can literally pull out and examine. See for yourself, with the primary source materials that history buffs love, what really happened and who really did it. Pull out Shakespeare's will and see how he changed his mind about who got what. Examining a facsimile of the Zouche-Nuttall Codex gives you a sense of the turmoil of pre-Columbian Mexico. Take a look at a steamy love letter written by Napoleon to his wife Josephine. Marvel at the beauty of a wall fresco from first-century Pompeii. Read pages from the Gutenberg Bible, the world's first printed book. Examine a "Wanted" poster for Abraham Lincoln's assassin...and more. Through the pages of this book, you will explore the forces that shaped our world, from the Roman Empire and the Black Death to Hollywood and the World Wide Web. Mozart and Picasso. Genghis Khan and Gandhi. Hitler, Elvis, and Martin Luther King, Jr. Not an encyclopedia or a comprehensive survey, the National Geographic History Book is a storyboard of major characters, key plot point and crucial details in the moving picture of human history. It is a portal through time, a collector's showcase of historical treasures and oddities, and a scrapbook of the human family.

About the Author
Marcus Cowper studied Medieval history at the universities of Manchester and Birmingham. He specialized in High and Late Medieval Church history, and received his postgraduate degree for a study on the impact of heresy in the locality. He has edited Osprey military history books for more than seven years and is one of the editors responsible for the creation of the Fortress series.
Advertisement