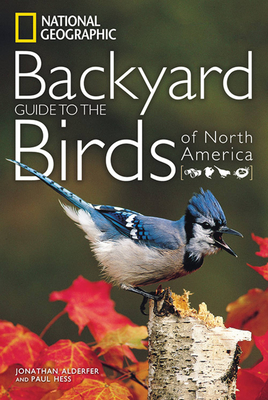 National Geographic Backyard Guide to the Birds of North America (Paperback)
National Geographic Society, 9781426207204, 254pp.
Publication Date: March 15, 2011
Description
Essential for the estimated 62 million Americans who watch and feed birds in their backyards--from the experts at National Geographic and co-author of the popular and perennial best seller Field Guide to the Birds of North America. No matter where you live--in the country, city, a high-rise or house--this handy guide will quench your curiosity about the feathered creatures in your midst. It features 150 of the most common and interesting birds likely to be observed at backyard feeders, nesting nearby or just migrating through. An indispensable visual index of all 150 species appears on the inside front and back laminated covers, making identification a snap. Beginning with Backyard Basics, an easy-to-follow, richly illustrated presentation on observing and identifying birds--with tips on attracting and feeding your favorite birds, birdhouses, and bird-friendly landscapes to entice nesting--the book is full of National Geographic's iconic field guide images and maps. Core species on everyone's list--such as robins, woodpeckers, bluebirds and chickadees--are featured in two-page spreads including practical tips with additional imagery. Sidebars captivate with interesting and little known facts.
About the Author
JONATHAN ALDERFER is a nationally known bird artist and author who has worked on a number of National Geographic's birding books. His previous titles for National Geographic include Field Guide to the Birds of North America, Field Guide to the Birds of Eastern North America, Field Guide to the Birds of Western North America, Illustrated Birds, Birding Essentials, and Complete Birds of North America. PAUL HESS, former chair of the Pennsylvania Ornithological Records Committee, is department editor for the "News and Notes" column in Birding magazine. A retired newspaper editor, he writes an "Ornithological Literature Notes" column for the Pennsylvania Society for Ornithology newsletter and has written many articles in the journal of Pennsylvania Birds.
Praise For National Geographic Backyard Guide to the Birds of North America…
"Valuable, as both a reference and as a 'browsing' book." –Bird Watchers Digest

"Like everything published by the National Geographic Society, it's first rate…many of the bird illustrations painted by the foremost birding artist Jonathan Alderfer…What sets [it] apart is the inclusion of photographs, lists of preferred foods and nesting habitats, seasonal range maps, and keys to identification -- all tailored toward the backyard birder. –Plain Dealer (Cleveland)

"A great book to give to those backyard birdwatchers in your life--or any friend or neighbor who might appreciate the birds in their yard…attractively designed and chock-full of useful and interesting information…provides many ways to approach, identify, and enjoy birds. Each section includes noteworthy features that make it not only beautiful but useful." –The Birdchaser 

"A handy-sized, easy-to-use tool for backyard birding…The information on each species is superb…fascinating nuggets…" –Birdfreak.com

 "Even inexperienced birders will be able to easily use this highly illustrated guide."
 –Book News, Inc.
 
"National Geographic turns its considerable field guide expertise to birds of the backyard."
—BirdWatching
Advertisement