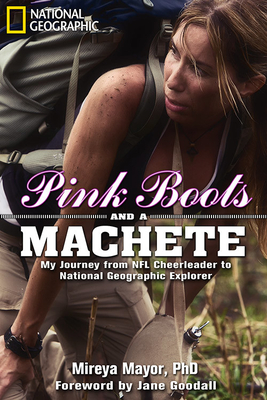 Pink Boots and a Machete (Hardcover)
My Journey From NFL Cheerleader to National Geographic Explorer
National Geographic, 9781426207211, 304pp.
Publication Date: March 1, 2011
* Individual store prices may vary.
Description
A quick examination of her roots, and one may never have guessed that Mireya Mayor would become the woman she is today. Yet, against all odds, this self-professed former "girly girl" daughter of overprotective Cuban immigrants blossomed from NFL cheerleader to Fulbright Scholar to field scientist and ultimately, quintessential adventurer. Now, with more than a decade's worth of thrilling exploits under her belt, Mayor recounts her life in a riveting, awe-inspiring new book.
 
In a series of short chapters, she relives each exhilarating event with uncanny charm and self-deprecating humor. Readers have the rare opportunity to follow the renowned primatologist around the globe as she unlocks the mysteries of the natural world and endeavors to save some of the planet's rarest creatures. Says Mayor: "I love the adventure, the exploration, the scientific discovery and the documentation. But really what drives me is the thought that future generations—my own children and their children—can one day learn to appreciate them like I do."
 
Throughout this unforgettable volume, she describes in stunning detail how she survived a plane crash...slept in jungles teeming with poisonous snakes...dove with hungry great white sharks...rappelled down a 14,000-foot sinkhole in search of frogs...draws blood from critically endangered lemurs...was charged by an angry silver-backed gorilla...was chased by elephants...and the list goes. Suffice it to say, Mireya Mayor has seen more in her 30-odd years than most of us will see in a lifetime. Her plucky spirit, brilliance in the face of calamity, and sheer will to succeed make this a classic mission book, and a thoroughly breathtaking read.
About the Author
Mireya Mayor is currently a host on Nat Geo WILD! channel with her own series "Wild Nights with Mireya Mayor" and can regularly be seen in documentary specials such as "Mystery Gorillas." In 2009, Mayor also starred in Mark Burnett's Emmy Nominated reality show "Expedition Africa" on History Channel. A former correspondent for the critically acclaimed series "Ultimate Explorer," Mayor received the highly prestigious National Geographic Emerging Explorer award in 2007, and is a frequent guest lecturer for the NG Live! Lecture series. Mayor regularly appears on TV on MSNBC, CNN, Inside Edition and NBC's "Today".  She has also been featured in People, Marie Claire, Latina, National Geographic Adventure and Elle magazines and in The New York Times and Miami Herald. 
Praise For Pink Boots and a Machete: My Journey From NFL Cheerleader to National Geographic Explorer…
"Mireya is a charming, hilarious, and wonderful storyteller, and though she's been charged and chased by wild animals in exotic locales and survived illnesses that would've killed a lesser person, she is also one of us—keenly and savagely aware of the importance of good hair and lip gloss."—Julie Klam, best-selling author of You Had Me at Woof: How Dogs Taught Me the Secrets of Happiness

"We don't often hear stories of NFL cheerleaders who go on to become a Fulbright Scholar and a Ph.D., but Mireya's story is exactly that and more. Pink Boots is the spirited and colorful story of a little Cuban-American girl who refused to let culture and others' expectations of her hold her back. Her passion for the sciences and her adventurous spirit are deeply inspiring and incredibly invigorating. Mireya is beauty and brains personified--and a badass at that. It is a memoir of survival."—Lisa Ling, journalist and best-selling author of Somewhere Inside

Mayor never gave up her trademark stylishness, even when the going got tough. [Her] gutsy grittiness and wicked sense of humor allowed her to survive danger, disease and sexism. Entertaining reading for the intrepid at heart."—KIRKUS REVIEWS
  
"Written in a breezy style that will be welcome to reality television aficionados, this National Geographic Wild co-host knows her audience and has crafted an appealing memoir that will be particularly welcome to outdoor wannabes."—BOOKLIST
 
"[Pink Boots] fills an important gap; it ought to inspire young people, especially young women, to follow in Mayor's footsteps. Armchair adventurers and readers interested in nature will enjoy the journey."—LIBRARY JOURNAL


"Pink Boots and a Machete is an empowering autobiography detailing how one humble, tree-climbing, bug-collecting tomboy evolved into one of the most recognizable primatologists and television adventurers on the planet. Mireya Mayor holds nothing back—from growing up in a family displaced by political oppression, to finding fame on the sidelines of professional football fields, to her triumphs and challenges in some of the most remote places on earth. You'll be amazed at Mayor's fertile sense of humor, her brutal honesty, and and her empowering message that anyone can achieve. Can we have it all? Apparently yes, with some perseverance, determination, and attitude, it seems that we really can. If you're female, you'll want to be just like her. If you're a guy ... you'll just want her. Regardless, this is the rare autobiography that carries the true voice of its author, and should not be missed."—HERALD de PARIS 

"Engrossing." –The Midwest Book Review