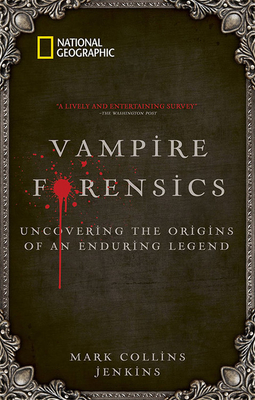 Vampire Forensics: Uncovering the Origins of an Enduring Legend (Paperback)
Uncovering the Origins of an Enduring Legend
National Geographic Society, 9781426207303, 303pp.
Publication Date: April 19, 2011
Description
A round-the-world investigation of the vampire myth, including a recently discovered "vampire skeleton," brings historic and scientific context to our enduring interest in vampires. Legend and lore are examined through the lens of history, archaeology, anthropology, and forensic science in this delightfully written book by Mark Jenkins, now in paperback. It's a great addition to the pop culture conversation, adding both humor and depth to the vampire craze.
About the Author
Mark Jenkins is chief historian of the National Geographic Society's archives and author of several books, including The Book of Marvels, Worlds to Explore, and High Adventure, an illustrated history of the Society.
Praise For Vampire Forensics: Uncovering the Origins of an Enduring Legend…
"A lively and entertaining survey of the historical and scientific materials relating to the natural phenomena that earlier centuries relentlessly misinterpreted as evidence for the undead." –The Washington Post
Advertisement