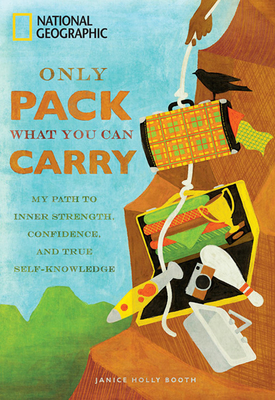 Only Pack What You Can Carry: My Path to Inner Strength, Confidence, and True Self-Knowledge (Hardcover)
My Path to Inner Strength, Confidence, and True Self-Knowledge
National Geographic Society, 9781426207334, 270pp.
Publication Date: February 15, 2011
Description
Magnetically written by former CEO of a North Carolina Girl ScoutCouncil and award winning CEO for the Western New York chapter of a national arts-in-education organization, this uniquely engaging travel journal describes four keys to unlocking personal and spiritual fulfillment: solitude, introspection, courage, and commitment. Through a series of compelling travel essays and deeply thoughtful memoirs, Janice Booth draws readers into each adventure ranging from a solo hike through Northern California to galloping across the fields of Ireland to a short stint with the Circus Arts learning the flying trapeze and shares her secrets to a fuller life through traveling alone. Step by step, she demonstrates why leaving everything and everyone behind for a few days (or more ) is the best path to inner strength, confidence, and true self-knowledge.
About the Author
Janice Booth has a weekly travel series in regional North Carolina newspaper "The Gaston Gazette" entitled "On Adventure with Janice Booth." She is a dedicated fundraiser, workshop leader, web guru, seminar specialist, and student of life who is committed to sharing the joy of living with gusto through her own experiences.
Praise For Only Pack What You Can Carry: My Path to Inner Strength, Confidence, and True Self-Knowledge…
"One of the most fascinating and exciting travel books of recent months…For anyone who has dreamed of hitting the road alone, this book could be the ultimate inspiration. As Ms. Booth proves, anything is possible if we dare to take chances." –Florida Weekly
Advertisement