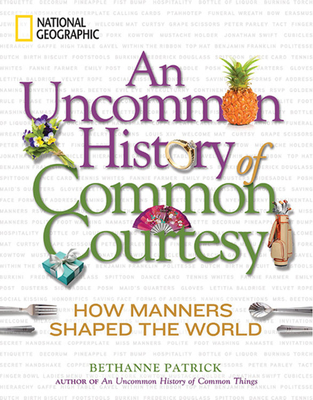 An Uncommon History of Common Courtesy: How Manners Shaped the World (Hardcover)
How Manners Shaped the World
National Geographic Society, 9781426208133, 304pp.
Publication Date: October 18, 2011
* Individual store prices may vary.
or
Not Currently Available for Direct Purchase
Description
With engaging and artfully presented text, including sidebars on media mavens throughout history, social gaffes, and archaic manners, this book is as entertaining as it is informative. Readers delve into cultural similarities and differences through lively passages, colorful photography, and sidebars on unique history. Topics include Courtesies and Greetings, Communication and Correspondence, Dining and Entertaining, Hierarchies and Protocol, Hospitality and Occasions, Amusements and Institutions, Boundaries and Cultural Differences, New Technology and Old Manners. Whether you are planning a trip abroad or just want a fascinating, browsable read, find out what is universal and what is merely a product of one's culture.
About the Author
Bethanne Patrick is a writer and book critic who blogs as The Book Maven. A graduate of Smith College with a master's from the University of Virginia, she hosts an online author interview show for PBS affiliate WETA. Her features, profiles, and reviews have appeared in The Washington Post, Publishers Weekly, The Writer, and People.
Praise For An Uncommon History of Common Courtesy: How Manners Shaped the World…
"The sharply designed and strikingly illustrated book offers page-length discussions of everything from "Ring Kissing" to "Close Talkers." Concise biographies of significant figures in the history of good behavior are interspersed tactfully throughout: Erasmus, Mrs. Beeton, Lady Bird Johnson." –Washington Post

"Refinement in table manners signals that a person has taken time to consider what best suits other people, whether they're seated at left or right, or across the table," declares the brand-new "An Uncommon History of Common Courtesy: How Manners Shaped the World" (National Geographic, $40) by Bethanne Patrick. "No wonder that elaborate dinners are often a precursor to being hired in large, formal companies — he or she who demonstrates deft precision with cutlery will usually practice the same when faced with a crucial deal." –Chicago Tribune
Advertisement