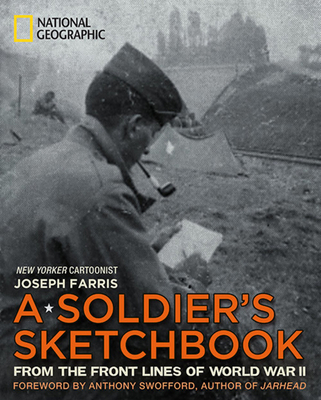 A Soldier's Sketchbook: From the Front Lines of World War II (Hardcover)
From the Front Lines of World War II
National Geographic Society, 9781426208171, 303pp.
Publication Date: November 1, 2011
Description
"A Soldier's Sketchbook, " an illustrated memoir from a World War II soldier, is drawn from the letters, sketches, snapshots, and mementos of Pvt. Joseph Farris, who left his home of Danbury, Connecticut, and set off to war aboard the U.S.S. General Gordon in October 1944, bound for France as part of Company M, 398th Infantry. Farris wrote more than 800 letters home, and he hewed his artistic talents with sketches and paintings along the way. He also secretly copied officers' notes and, once back home after the war, collected clippings and battlefield accounts, which form a sobering counterpoint to his reassurances to his parents that everything is "swell."
This book chronicles a young soldier's experiences from October 1944 through January 1946 in France and Germany. In words and pictures, it tells of Christmas in the trenches, long walks through the rain and mud, landscapes of fear and despair, lost friends and leaders, changing beliefs about human nature, God, and the Jerries (as he calls the Germans).
Transcriptions of many of the 800 letters Joseph Farris wrote home sit side by side with the real thing, reproduced in facsimile on the page. Snapshots and color sketches, painted in moments of reprieve during battle and carried home by this earnest young man and fledgling artist, help us see the world he saw.
About the Author
Joseph Farris is an internationally published illustrator whose cartoons have appeared in "The New Yorker, " many on the cover, since 1971. His numerous books include "Phobias and Therapies, A Cog in the Wheel, " and" They're a Very Successful Family." Farris's work is in the private collections of President Jimmy Carter and Paul Newman, among others, and many of his "New Yorker" cartoons are in the permanent collection of the Morgan Library & Museum in New York.
Praise For A Soldier's Sketchbook: From the Front Lines of World War II…
"A remarkable new book." –Newyorker.com (Book Bench blog)
 
"Farris, best known postwar as a cartoonist for the New Yorker, offers this evocative memoir-album, with a scrapbook graphic design. Replete with faux-yellowed pages, it chronicles his tour of duty using his contemporary illustrations, his letters to his Connecticut family, and present-day reflections on the attitudes and fears of his innocent 19-year-old self. With meticulous National Geographic maps tracking his regiment's advance through France and Germany, Ferris' is an honestly written, visually captivating volume and a superb addition to the genre of WWII artwork." –Booklist
 
"Members of the "Greatest Generation" will enjoy the postcard from the front … an Everyman story told in letters, sketches, photographs and memorabilia, at once charming, naïve and wise." Mysanantonio.com
Advertisement