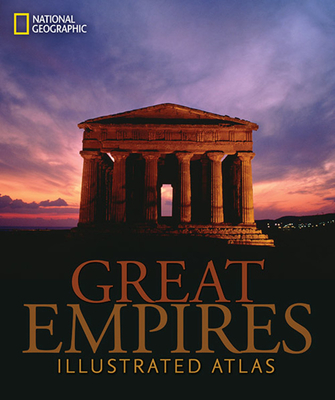 Great Empires: An Illustrated Atlas (Hardcover)
An Illustrated Atlas
National Geographic Society, 9781426208294, 368pp.
Publication Date: November 20, 2012
* Individual store prices may vary.
or
Not Currently Available for Direct Purchase
Description
Experience what life was like when pharaohs erected the majestic pyramids; when Hannibal commanded Carthage's 40,000 troops; when Charlemagne was crowned Holy Roman Emperor; and when the drive to conquer defined the destiny of leaders and the lives of ordinary people. Much of human history is destined to be forgotten--but thousands of years have not erased the epic stories of the great empires of the world. Great Empires sweeps through the ages, uncovering the secrets of dynasties from the dawn of human civilization to the 20th century and tracing the path of power around the globe and across the centuries. Each chapter delves into the times, places, and historical forces that gave rise to legendary warriors, charismatic kings, and lasting dynasties. Throughout these epic tales of the great empires we see extraordinary ambition, shrewd calculation, heroic bravery, and surprising foresight--all captured in one complete volume. Organized in chronological order from 2600 B.C. to the 20th century, this comprehensive history weaves together a compelling portrait of more than 30 epic empires using dramatic images, intriguing sidebars, and easy-to-follow time lines. New, meticulously drawn National Geographic maps show the extent of territory held by each empire, major trade routes, paths of military campaigns, locations of principal traded commodities, significant roads, walls and buildings, and sites of pivotal battles. Selected maps also show the changes in physical geography between ancient and modern coastlines. Sidebars, images, and text showcase the historic leaders such as Hammurabi, Alexander the Great, Julius Caesar, and Genghis Khan, who had grandiose visions for their world.
About the Author
STEPHEN G. HYSLOP has written extensively for National Geographic and Time-Life Books, including Almanac of World History (with Patricia Daniels), Eyewitness to the Civil War, Atlas of the Civil War, and Bound for Santa Fe. PATRICIA DANIELS has written, edited, or contributed to many National Geographic books on history, science, and geography, most recently Almanac of World History, New Solar System, Eyewitness to History, and National Geographic Encyclopedia of Space. The author lives in Alexandria, VA and State College, PA.
Praise For Great Empires: An Illustrated Atlas…
"Although this is a fine reference work crammed with facts on each page, it can also easily be read cover to cover. An accomplished and sensible resource for students in need of illustrations for reports and patrons looking for a general but informative historic overview of world empires."
—Rob Tench, Old Dominion Univ. Lib., Norfolk, Va.

"Although this is a fine reference work crammed with facts on each page, it can also easily be read cover to cover. An accomplished and sensible resource for students in need of illustrations for reports and patrons looking for a general but informative historic overview of world empires."
–Library Journal

Advertisement