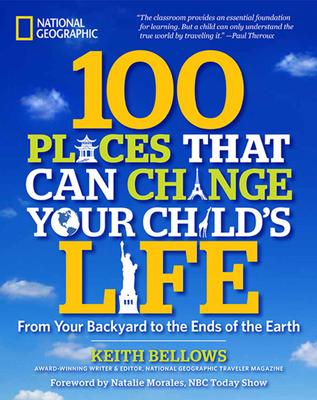 100 Places That Can Change Your Child's Life (Paperback)
From Your Backyard to the Ends of the Earth
National Geographic, 9781426208591, 272pp.
Publication Date: February 5, 2013
* Individual store prices may vary.
Description
Kids who learn to travel will travel to learn. National Geographic Traveler Editor Keith Bellows sends you and your children globetrotting for life-changing vacations that will expand their horizons and shape their perspectives. What you won't find inside: predictable itineraries and lists of landmarks and events. Instead, you'll get evocative, slice-of-life experiences and age-appropriate ideas that illuminate place and culture.

Each chapter of 100 Places That Can Change Your Child's Life plumbs the heart of a special place—from the Acropolis to Machu Picchu to the Grand Canyon—all from the perspective of insiders who see destinations through a child's eyes. You'll meet actor and travel writer Andrew McCarthy, who tours the suqs of Marrakech with his seven-year-old son; photographer Annie Griffiths, who shares the miraculous migration to Mexico of the monarch butterflies; Tom Ritchie, who has guided countless children and parents to Antarctica for more than 30 years; the waterman who knows where to see the ponies of Assateague in the true wild; and countless others who are cultural treasures, great storytellers, and keepers of a sense of place.

Packed with ideas to supplement the travel experience—foods, music, films, and carefully curated lists of kid-friendly activities and places to eat and stay—this inspiring book is the perfect trip planner to excite children about culture and the unique magic the world has to offer.
About the Author
Born in the Democratic Republic of Congo, KEITH BELLOWS has launched 30 magazines, television, and radio properties and has lectured around the world. He is editor-in-chief ofNational Geographic Traveler and project leader of Learning2Go, an innovative program he developed to bring children and parents together around travel as a learning tool. A graduate of Gordonstoun School in Scotland and Dartmouth College, Bellows has appeared regularly onThe Today Show and Good Morning America.
Praise For 100 Places That Can Change Your Child's Life: From Your Backyard to the Ends of the Earth…
"Consider Bellows' suggestions a step up from simply taking a vacation. He says these places could open your child's eyes to the diversity of the world, help them learn what interests them and inform how they navigate it as adults." --Cnn.com

"From the treetops of Costa Rica, to the Grand Canyon and Loch Ness, Bellows' book presents each destination through a child's eyes." –Skylife  

"Not only highlights where to go and what to do with your kids, but also how to make the most of the experiences." --Kidventurous.com

"If your family likes to travel, learn, and explore new places, this book will be a good resource for dreaming, planning and going." --Tropic Home and Family blog 

"The writers uncovered walks, trails, destinations and vistas off the beaten paths which, combined with maps and practical advice, make the book the perfect companion for any National Park adventure." --Family Focus blog 

"The photographs are amazing, the content is fascinating and the text is presented in an interesting format that holds their attention." --Simply Stacie blog

"A unique and imaginative approach to travelling with children. Highly Recommended!" -- Hot Brands Cool Places

"A well-curated overview of 100 places not to be missed on all six continents and…why visiting them can influence your child's vision of life and the world." --LivingGreenWithBaby.com

"We're all kids at heart, so this can go for any of us…A common theme is that these are places where kids can learn and have fun at the same time." --Fox & Friends