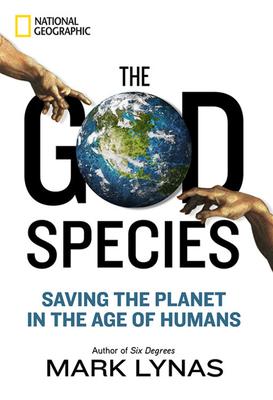 The God Species: Saving the Planet in the Age of Humans (Hardcover)
Saving the Planet in the Age of Humans
National Geographic Society, 9781426208911, 280pp.
Publication Date: October 4, 2011
Description
We humans are the God species, both the creators and destroyers of life on this planet. As we enter a new geological era - the Anthropocene - our collective power now overwhelms and dominates the major forces of nature. But from the water cycle to the circulation of nitrogen and carbon through the entire Earth system, we are coming dangerously close to destroying the planetary life-support systems that sustain us. In this controversial new book, Royal Society Science Books Prize winner Mark Lynas shows us how we must use our new mastery over nature to save the planet from ourselves. Taking forward the work of a brilliant new group of Earth-system scientists who have mapped out our real 'planetary boundaries', Lynas draws up a radical manifesto calling for the increased use of environmentally-friendly technologies like genetic engi- neering and nuclear power as part of a global effort to use humanity's best tools to protect and nurture the biosphere. Ecological limits are real, but economic limits are not, Lynas contends. We can and must feed a richer population of nine billion people in decades to come, whilst also respecting the nine planetary boundaries - from biodiversity to ocean acidification - now identified and quantified by scientists. Ripping up years of environmental orthodoxy, he reveals how the prescriptions of the current green movement are likely to hin- der as much as help our vitally-needed effort to use science and technology to play God and save the planet.
About the Author
Mark Lynas has worked for nearly a decade as a specialist on climate change, and is author of three books on the subject: High Tide: News from a Warming World (2004), Carbon Calculator (2007), and Six Degrees: Our Future on a Hotter Planet (2007). High Tide was longlisted for the Samuel Johnson Award for Non-Fiction and short-listed for the Guardian First Book Award. Six Degrees was long- listed for the Orwell Prize in 2008 and won the Royal Society Prize for Science Books in the same year. The book has now been translated into 22 languages around the world. Six Degrees is published in the US by National Geographic, which has also made a television documentary based on the book and broadcast on the National Geographic Channel internationally. Lynas writes a fortnightly column for the New Statesman magazine, and is a regular contributor to the Guardian. He is also a Visiting Research Associate at Oxford University's School of Geography and the Environment.
Praise For The God Species: Saving the Planet in the Age of Humans…
"If there is one reason to read Mark Lynas​' book The God Species, it's because of his exposition of the 'planetary boundaries' concept." –Scientific American
 
"I believe it would behoove anyone who has an opinion about the future of our planet to read The God Species." –Forbes 
 
"Lynas's book is at the top of my must-read pile." –Dot Earth blog, Andrew Revkin, New York Times
 
"An accurate portrayal of the state of the planet and a call to action using all means possible before boundaries are crossed with irreversible results." –Kirkus
 
"Readers who were previously unaware of the scope of humanity's effects on the world—on its climate, its biogeochemical cycles, the chemistry of its oceans, the color of its sky, the flow of its rivers, the number of its species and more—may find themselves shocked by its relentless exposition. Meanwhile many readers who are already alarmed by the state of the environment will find themselves shocked by what Mr. Lynas wants to do about it…his views are certainly not yet common currency, and…that makes his position both more interesting and more compelling." –The Economist
 
"For all the angst this book may cause his Green allies, there can be no doubting his seriousness about climate change…This is a clear-eyed, hard-headed assessment of the ecological challenges facing us - and all the more bracing for it...vigorously provocative" –London Evening Standard
 
 "The power of Lynas's voice comes not just from his famously deep research... but also his authority as a campaigner." --Sunday Times of London
"The most attention-grabbing passages in the book come in Lynas's denunciations of the green movement." –The Guardian
 "Lynas is to be commended for producing a work that challenges so many green movement taboos and for recognising the importance of hard science – such as nuclear power and genetic engineering – and sound economics as potential saviours of the planet. This is an insightful, honest book." –Guardian.co.uk
 
"offer[s] planet-scale strategies for a sustainable future…sure to spark debate…at the heart of the book is the optimistic belief that humans are capable of understanding Nature and able to repair the damage that we have done and continue to do…" –Technorati Green
 
"Eco-activist and journalist Mark Lynas, famous for shoving a pie in the face of sane skeptic Bjorn Lomborg, has…changed some of his positions…Nuclear power? Certainly part of the solution…As is genetic modification…That's a win for science, for the future of policy and responsible stewardship of mother Earth." –Science2
 
"Mark Lynas has written the clearest exposition so far of the environmental choices we face…He is wonderfully sane and cogent on difficult issues." –American Public Media
Advertisement