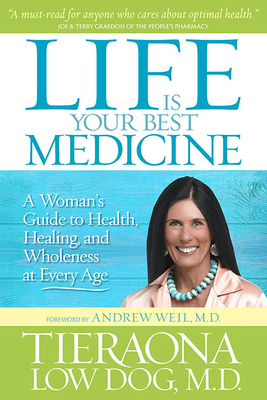 Life Is Your Best Medicine (Hardcover)
A Woman's Guide to Health, Healing, and Wholeness at Every Age
National Geographic, 9781426209604, 304pp.
Publication Date: September 4, 2012
* Individual store prices may vary.
Description
"The division between conventional and traditional medicine is as artificial as the division between science and nature. They can be woven together in a fashion that meets our physical, emotional, and spiritual needs. This is the foundation upon which integrative medicine is built." -- Tieraona Low Dog, M.D.

In Life Is Your Best Medicine, Dr. Low Dog weaves together the wisdom of traditional medicine and the knowledge of modern-day medicine into an elegant message of health and self-affirmation for women of every age. This is a book that can be read cover to cover but also dipped into for inspiration or insight about a particular physical or mental health issue or remedy. We learn that, despite the widespread availability of pharmaceutical medications, advanced surgical care, and state-of-the-art medical technology, chronic illness now affects more than 50% of the American population. The evidence is overwhelmingly clear that much of the chronic disease we are confronting in the United States has its roots in the way we live our lives. Research shows that if Americans embraced a healthier lifestyle, which includes a balance between rest and exercise; wholesome nutrition; healthy weight; positive social interactions; stress management; not smoking; limited alcohol use; and no or limited exposure to toxic chemicals; then 93% of diabetes, 81% of heart attacks, 50% of strokes, and 36% of all cancers could be prevented! This means that each one of us has the power to shift the odds of being healthy in our favor. And if you do get sick, being fit gives you a much better chance for getting well. Your health has a great deal more to do with your lifestyle and a lot less to do with taking prescription drugs than most people realize.

Part I. The Medicine of My Life is a personal and passionate introduction to the book
Part II. Honoring the Body includes Food, Supplements, Illness, Wholeness
Part III. Awakening the Senses includes Nature, Garden, Music
Part IV. Listening to Spirit includes Humor, Relationships, Play, Meditation, Animals
Epilogue. Contentment
About the Author
TIERAONA LOW DOG, M.D., is an internationally recognized expert in the fields of integrative medicine, dietary supplements, herbal medicine and women's health. Dr. Low Dog has been an invited speaker to more than 550 scientific conferences, has published 45 peer-reviewed articles, written 22 chapters for medical textbooks, and published five books including National Geographic's Life is Your Best Medicine and Healthy at Home. She is a frequent guest on the Dr. Oz show and NPR's The People's Pharmacy. She currently serves as the Fellowship Director for the Academy of Integrative Health and Medicine where she leads the nation's first inter-professional graduate level training program in integrative medicine. She is the author of National Geographic's Fortify Your Life and Healthy at Home.
Praise For Life Is Your Best Medicine: A Woman's Guide to Health, Healing, and Wholeness at Every Age…
"Because we've spent a lot of quality time in each other's company, I thought I knew Tieraona Low Dog – until I read this book. Life Is Your Best Medicine is not only a comprehensive and highly practical guide for women seeking optimum health, it is also Tieraona's own life story, sparkling with the wisdom she has drawn from it. I had no idea of all the adventures she had and the diverse experiences that made her the person she is today. The title of the book conveys the essence of her teaching: Your own experience is an invaluable and trustworthy source of information about how to maintain health as you go through life and deal with the common problems you encounter."  –Dr. Andrew Weil

"Throughout her book, she stresses living life in a positive way, asking readers to "every day find one thing to be grateful for." Her holistic approach will appeal to anyone open to lower-tech ways to be healthy." –Booklist

"Not your typical diet book…shifts the focus from such short-term fixes as crash diets and prescription drugs to improving overall quality of life." –Washington Post
or
Not Currently Available for Direct Purchase