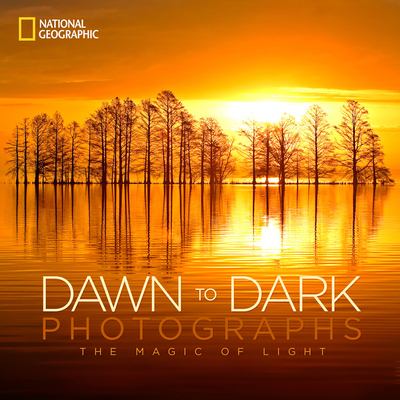 National Geographic Dawn to Dark Photographs: The Magic of Light (Hardcover)
The Magic of Light
National Geographic Society, 9781426211799, 398pp.
Publication Date: October 1, 2013
Description
The world's best landscape photography and photojournalism stunningly depicts the passage of a single day, from dawn's first light to the closing moments of sunset. Experience shimmering mornings and opaque nights through the eyes of National Geographic's finest photographers in this gloriously uplifting volume--the latest entry in National Geographic's best-selling annual photography collection. Daybreak whispers mauve over a long ocean horizon. The morning sun twinkles in a drop of dew. The broad heat of midday radiates over a beach strewn with sweat-baked sunbathers. A slender crescent moon caresses a gnarled tree standing alone on the heath. Full of one-of-a-kind photographs, this breathtaking collection gives readers a front-row seat to the world's wonders, from its most imposing cityscapes to its most pristine landscapes.

About the Author
MAURA MULVIHILL oversees National Geographic Creative, comprising 11.5 million images and thousands of hours of footage dating back to the organization's first foray into television in 1965. Under her direction, the Image Collection represents National Geographic's stable of photographers and manages the Society's extensive video and image assets. JIM RICHARDSON has photographed more than 45 stories for National Geographic and Traveler magazines. His work has been featured on ABC News Nightline and CBS News Sunday Morning. SUSAN TYLER HITCHCOCK is a nonfiction writer and senior book editor at National Geographic. This is her 16th published book and the third National Geographic photography book to which she has contributed.
Praise For National Geographic Dawn to Dark Photographs: The Magic of Light…
"If you like to be able to just sit and look at beautiful images and not have to read that much, this book is for you, or whoever is lucky enough to get it as a gift from you." — Nature Photographers Online Magazine

"No matter where you live, the sun rises and sets. Along its path the light changes — sometimes imperceptibly, always gradually, and sometimes stunningly on its path from dawn to dark and back again… Dawn to Dark Photographs: The Magic of Light tells this lush story through the work of National Geographic's best visual storytellers." –McPherson Sentinel

"From peaceful lakes and broad landscapes, to Muslim pilgrims gathering to pray, U.S. Army soldiers on patrol and a crowded New York City sidewalk on a rainy day and myriad locations and scenes in between, the photographers of National Geographic share different shades of light in stunning images from around the world." -Deseret News
Advertisement