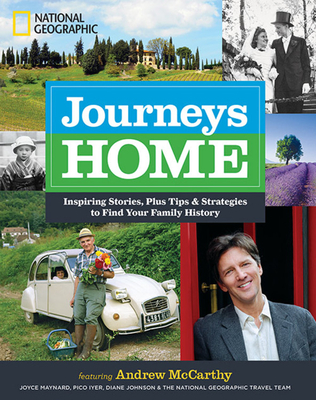 Journeys Home (Hardcover)
Inspiring Stories, Plus Tips and Strategies to Find Your Family History
National Geographic, 9781426213816, 288pp.
Publication Date: February 3, 2015
Other Editions of This Title:
Compact Disc (2/3/2015)
Compact Disc (2/3/2015)
MP3 CD (2/3/2015)
* Individual store prices may vary.
Description
Addressing the explosive growth in ancestral travel, this compelling narrative combines intriguing tales of discovery with tips on how to begin your own explorations. Actor and award-winning travel writer Andrew McCarthy's featured story recounts his recent quest to uncover his family's Irish history, while twenty-five other prominent writers tell their own heartfelt stories of connection. Spanning the globe, these stories offer personal takes on journeying home, whether the authors are actively seeking long-lost relatives, meeting up with seldom-seen family members, or perhaps just visiting the old country to get a feel for their roots. Sidebars and a hefty resource section provide tips and recommendations on how to go about your own research, and a foreword by the Genographic Project's Spencer Wells sets the scene. Stunning images, along with family heirlooms, old photos, recipes, and more, round out this unique take on the genealogical research craze.
About the Author
Featured author ANDREW MCCARTHY is an actor and television director (known for his roles in St. Elmo's Fire, Mannequin, Weekend at Bernie's, Pretty in Pink, and Less Than Zero) who also has an illustrious writing career. He is an editor-at-large at National Geographic Traveler, and has written for The New York Times, The Atlantic, The Wall Street Journal, Slate, Travel+Leisure, Afar, Men's Journal, Bon Appétit, National Geographic Adventure, and others. The Society of American Travel Writers named him 2010 "Travel Journalist of the Year," and he was cited three times for notable work in the "Best American Travel Writing" series. His 2012 memoir, The Longest Way Home, became a New York Times bestseller.
Praise For Journeys Home: Inspiring Stories, Plus Tips and Strategies to Find Your Family History…
"It's National Geographic, thus I need hardly to mention that the photos make you want to hit Trip Advisor, but the text, too, is mesmerizing." —Library Journal

"Journeys Home is part inspirational, part informational and written completely from the heart. If you long to know more about your family's past, but don't know why or how you should start your search, Journeys Home will motivate and encourage you to begin." —About.com

"This is a superbly interesting book that is liberally sprinkled with stunning images that are the hallmark of all National Geographic publications." —Apogeephoto.com

"Family secrets, mysteries, and lore are the impetus for the emotion-filled sojourns described in this beautifully illustrated essay collection and genealogy guide."
—Library Journal

"These 26 essays range from the prosaic (Illinois) to the mysterious (Tanzania), all with lovely color photos." —Minneapolis Star-Tribune

"We've come to expect NatGeo travel guides to be arrestingly—no, beautifully—illustrated...but the [book's] beauty is matched by copious information brimming with heart and soul." --Booklist