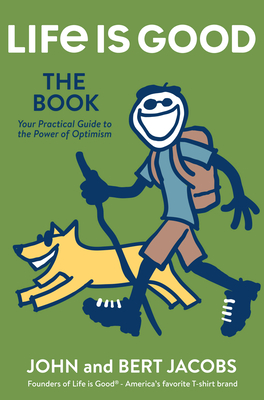 Life is Good
The Book
Hardcover

* Individual store prices may vary.
Description
This inspiring book of wisdom, life lessons, and self-help from National Geographic celebrates the power of optimism: the driving force behind the authors' beloved, socially conscious clothing and lifestyle brand, now worth more than $100 million.

Following the chronology of their personal and professional journeys, Bert and John share their unique ride-from their scrappy upbringing outside Boston to the unlikely runaway success of their business. The brothers illuminate ten key "superpowers" accessible to us all: openness, courage, simplicity, humor, gratitude, fun, compassion, creativity, authenticity, and love. Their story, illustrated with the company's iconic artwork, shows how to overcome obstacles and embrace opportunities-whether it's growing stronger from rejection, letting your imagination loose, or simplifying your life to focus on what matters most. 

In these colorful pages, Bert and John's plainspoken insights are paired with inspiring quotations, playful top-ten lists, deeply moving letter from the Life is Good community, and valuable takeaways from tapping the power of optimism to live your best life. Both entertaining and profound, Life is Good: The Book is the ultimate guide to embracing and growing the good in your life.
Praise For Life is Good: The Book…
"In their new book…the Jacobs brothers describe a rollicking entrepreneurial journey that began as a fun way to scrape out a living and evolved into the expression of a simple philosophy based on optimism. That philosophy—laid out in 10 "superpowers" that are the company's core values—is instructive whether you want to be a better person or build a better business."—Inc.
 
 
"LIFE IS GOOD: The Book is Bert and John Jacobs' vessel for sharing their philosophy and providing practical self-help to inspire and empower readers to embrace the good stuff. "—Boston Magazine
 
 
"[T]he book devotes a chapter to all 10 of the Life is Good "Superpowers," which include practices like gratitude, creativity, simplicity, love and openness and how to apply them to every day life. Not only that, but it also includes inspirational stories from letters that they've received over the years . . . the book isn't just about inspiring journeys out of darkness and into the light, and not all of its content is quite as heavy. In fact, most of it is intended to be light, with various top 10 lists like 'Top Ten Comedy Movies,' funny stories, and life tips and wisdoms intertwined from cover to cover" —Frederick News Post
 
"[The book] chronicles their path to success and offers tips for living your best life."—Improper Bostonian
National Geographic, 9781426215636, 272pp.
Publication Date: September 1, 2015
About the Author
In 1989, brothers Bert and John Jacobs designed their first T-shirts. They began selling their designs in the streets of Boston and out of an old van at colleges and street fairs. Today, the company offers more than 900 different items in 14 categories, and products are sold in approximately 4,500 retail stores in the U.S., and in 30 countries worldwide.
or
Not Currently Available for Direct Purchase