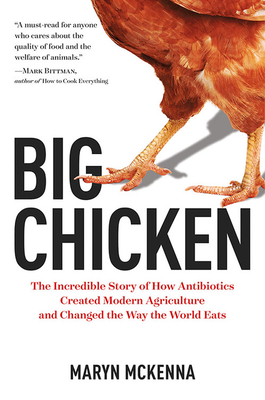 Big Chicken
The Incredible Story of How Antibiotics Created Modern Agriculture and Changed the Way the World Eats
Hardcover

* Individual store prices may vary.
Other Editions of This Title:
Digital Audiobook (10/15/2018)
Praise For Big Chicken: The Incredible Story of How Antibiotics Created Modern Agriculture and Changed the Way the World Eats…
"In this well-written exposé, McKenna (Superbug) dissects the controversy of the routine use of antibiotics to fatten chicken, which has led to the rise of drug-resistant bacteria…Throughout, McKenna offers spot-on commentary on the dangerous additives in chickens and concludes on a relatively hopeful note." –Publishers Weekly

"This superb scientific exposé by journalist Maryn McKenna skewers the use of growth-promoting antibiotics in chicken feed."–Nature

"Solid, eye-opening public health journalism."–Kirkus

"In Big Chicken, McKenna chronicles in exquisite detail how humanity went from developing antibiotics to prevent the world's worst bacteria, to standing on the verge of an onslaught of unstoppable diseases."–PBS.org

"Journalist and author Maryn McKenna...describes the consequences of decades spent feeding chicken antibiotics, in terms of chicken flavor, poultry well-being, and, most significantly, human health." 
–The Atlantic

"A twisting tale that science writer Maryn McKenna elegantly unspools in her extraordinary new book. –Fortune

"Maryn McKenna, author of Superbugs and the recent Big Chicken — have reported, the use of antibiotics in agriculture has resulted in an army of superbugs." –HuffingtonPost
 
"Maryn McKenna lays out in details in her superb new book, Big Chicken, it was clear by the 1960s that using antibiotics this way contributed significantly to the resistance problem." –Mother Jones

"…a book that may make you put down that drumstick and reconsider your relationship with one of America's favorite foods." –The Washington Post

"As Maryn McKenna details in her fun, fascinating and sometimes frightening new book Big Chicken, the aim of this nationwide breeding challenge was to create, you guessed it, a big chicken."
–Scientific American 

"Maryn McKenna's Big Chicken (National Geographic) shows how adding antibiotics to chicken feed after World War II brought cheap protein to the table and a fast-growing public health crisis—antibiotic resistance—to the world." –Bloomberg 

"The case of chicken's shift from a local delicacy to an everyday protein source sheds light on both the history and the future of how we eat." –Civil Eats

"In her words, public health journalist Maryn McKenna says she wrote the book "Big Chicken" in hopes of improving the quality of the chicken consumed in the United States."
–Food Safety News 

"In her book "Big Chicken," journalist Maryn McKenna tells the story of how Rick Schiller was infected with a drug-resistant strain of salmonella, a foodborne illness, during the Foster Farms outbreak in 2013 that sickened hundreds of people. Years after almost losing his life, Schiller continues to struggle with medical problems." –St. Louis Post-Dispatch

"Maryn McKenna has led the charge against rampant antibiotic use and the resultant superbugs. Here, in a page-turning story, she tells how chicken became the symbol of factory farming, and why we can finally be hopeful this dreadful era is drawing to a close. A must-read for anyone who cares about the quality of food and the welfare of animals." —Mark Bittman, author of How to Cook Everything

"Ms McKenna shows how, for decades, the demand for "meat for the price of bread" has overridden other concerns." –The Economist  

"McKenna zeroes in on the industry's longtime reliance on antibiotics in order to quickly grow nice and plump birds for our dining pleasure." –Atlanta Journal Constitution
 
"Big Chicken is a fascinating story of big food and the price we pay for cheap food." —Tom Colicchio, Chef of Crafted Hospitality and Co-founder of Food Policy Action
 
"If you think raising farm animals on antibiotics is nothing to worry about, Big Chicken will change your mind in a hurry. McKenna, a compelling writer, tells a gripping story: how antibiotics helped transform chicken-raising from backyard to industrial.  Her account of the profit-driven politics that allowed widespread antibiotic resistance should be required reading for anyone who cares about food and health, and especially for congressional representatives who have consistently failed to take action on this critical issue­." —Marion Nestle, professor of nutrition, food studies, and public health at New York University, and author of Food Politics
 
"A modern Upton Sinclair, Maryn McKenna explains how our food is actually produced today. Big Chicken is highly readable, shocking, and opens our eyes to the risks we have been incurring. A most important book!" —Martin Blaser, MD, author of Missing Microbes, Professor of Medicine and Microbiology at New York University
 
"Always curious, never pedantic, Maryn McKenna shows empathy for man and sympathy for fowl, while giving voice to scientists and farmers who have concluded that antibiotic-drugged chickens imperil the American diet. Big Chicken is beautifully written, rendering her research and the agitations of reformers all that more persuasive." —John T. Edge, author of The Potlikker Papers
 
"You will never look at BBQ chicken wings or buckets of nuggets the same way again after you read Maryn McKenna's meticulously researched, riveting Big Chicken—and you shouldn't. After all, the only reason that chicken is so darned fat is that it was fed antibiotics every day of its life. Brava, McKenna, for a tour de force of environmental, science and food writing." — Laurie Garrett, Pulitzer Prize winning writer and author of The Coming Plague
 
"Maryn McKenna's enthralling book is ostensibly about chicken but is really about us: the foolish choices we have made and the happier, healthier future that awaits us all if we liberate this most American of foods from the drug fix we have imposed on it. Her deep, careful reporting respects every nuance but builds to a clarion call that is as persuasive as it is profound. So let the cry echo throughout the land, from the egg farms of the Delmarva Peninsula to the bistros of San Francisco: Let chicken be chicken again!" —Dan Fagin, author of the Pulitzer Prize-winning Toms River
 
"This is a warning: Read this book and you will never look at  bucket of fried chicken the same. In this tour de force, investigative journalist Maryn McKenna hunts down the history of antibiotics in the food chain, showing the missteps and collusion that brought us to a worldwide epidemic of antibiotic resistant bacteria that could undermine our most powerful public health tool. Every now and then I read a book that I believe holds the power to radically remake the world for the better. McKenna's Big Chicken is just such a book." —Anna Lappé, author of Diet of a Hot Planet
 
"Maryn McKenna is one of the best journalists in America reporting on public health. In her latest book, Big Chicken, she shows how modern chicken production and drug resistant infections are part of the same problem.  This important book is a must-read for anyone wanting to understand why our approach to producing food is unsustainable and the changes we must make if we don't want to return to a pre-antibiotic era. I love chicken wings but I will never again look at them in the same way." —Richard E. Besser, M.D., President and CEO of the Robert Wood Johnson Foundation
 
"Drug-resistant infections are among the greatest challenges of our time, threatening the foundations of modern medicine. Maryn McKenna makes this challenge personal and compelling, illustrating how antibiotic resistance has been developing, why we should care, and what we should all demand if society is to address it." —Dr. Jeremy Farrar, Director of The Wellcome Trust
 
"Maryn McKenna is the leading journalist worldwide on antibiotic overuse and resistance, and in BIG CHICKEN she tells a crucial part of that story: the vast misuse and overuse of antibiotics in industrial farming. Antibiotic resistance is a global emergency, and agricultural use of antibiotics is a key part of that crisis. This clear, urgent explanation of how we got here and what's at risk should be required reading for anyone who wants to see change happen." —Lance B. Price, Ph.D., Founder and Director of the Antibiotic Resistance Action Center

"Maryn McKenna has told an important and frightening story — and told it well.  As McKenna makes clear, getting antibiotics out of routine chicken production will make our food tastier and safer." —Thomas R. Frieden, MD, former director of the U.S. Centers for Disease Control and Prevention
 
"Agribusiness's headlong quest to put "a chicken in every pot" has come at a tremendous cost: Feeding modern medicine's most valuable antibiotics to healthy farm animals has made these wonder drugs impotent, resulting in thousands on once-preventable human deaths each year. Through solid research and compelling narration, McKenna tells the story of how we allowed this to happen and points to ways to stop the unfolding catastrophe--before it's too late." —Barry Estabrook, author of Pig Tales
 
"Big Chicken gathers a colorful cast of characters to piece together the history behind our culture's massive overuse of antibiotics in chicken production, illuminating the unintended consequence of drug resistance around the globe. Through stories of place-based agriculture from France to Georgia, McKenna leads us toward an alternative future of food that relies on farmer knowledge, promotes biodiversity and results in great-tasting, antibiotic-free chicken." —Jill Isenbarger, CEO of Stone Barns Center for Food and Agriculture
 
"I encourage everyone to read Big Chicken and learn more about where their food comes from, and more importantly, how it is raised. Maryn McKenna's book offers a persuasive understanding as to why it is imperative to support what is best for the animal, the farmer, public health, the environment, and the customer." —Paul Willis, founder of Niman Ranch Pork Company
National Geographic, 9781426217661, 400pp.
Publication Date: September 12, 2017
About the Author
MARYN MCKENNA is an award-winning journalist and the author of two critically acclaimed books, Superbug and Beating Back the Devil. She writes for Wired, National Geographic, Scientific American, Slate, Nature, The Atlantic, the Guardian, National Geographic magazine's online science salon Phenomena, and others, and is a senior fellow of the Schuster Institute for Investigative Journalism at Brandeis University.
Coverage from NPR
or
Not Currently Available for Direct Purchase