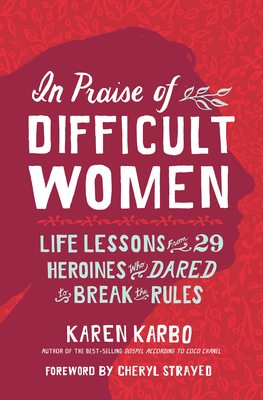 In Praise of Difficult Women
Life Lessons From 29 Heroines Who Dared to Break the Rules
Hardcover

* Individual store prices may vary.
Other Editions of This Title:
Paperback (2/4/2020)
MP3 CD (11/27/2018)
Compact Disc (11/27/2018)
Compact Disc (11/27/2018)
Paperback (2/27/2018)
Praise For In Praise of Difficult Women: Life Lessons From 29 Heroines Who Dared to Break the Rules…
"It's the unexpected stories that are some of the most beguiling…These are messy, inspiring lives lived in public by necessity or choice. They often offer great humor too." –San Francisco Chronicle

"I think that this is a book that everyone should read and one that everyone should have on their shelves." - Ms. Nose in a Book

"I love the idea of grabbing a cuppa, this book, and just diving right in. It's such a great pick-me-up.  Reading about these awesome women, their struggles, their successes, and how inspiring they are - just puts a smile on my face. They are awe-inspiring stories that I gobbled up with joy.
--abookishwayoflife.blogspot.com

"This book is a total inspiration for those that want to shake things up a little bit and push boundaries further for women…All I can say is I now have a very long list of biographies and memoirs on and by the woman that appear in this book." –abookishaffair.blogspot.com

"An engaging, inspiring collection where I enjoyed learning about amazing modern women and was left wanting to learn more." –doingdeweydecimal.com
 
"The author chose a great selection of women to represent the "difficult" woman."
–cerebralgirl.blogspot.com

"Karbo has a knack for the nuances and sidebars that leave the reader not just a carrier of new facts, but of fascination and admiration for her subjects." –The Register-Guard

"This book is a history lesson that goes down like cotton candy: pink, sweet, and fun as hell. Don't miss it." —NextTribe

"With occasional anecdotes from her own life, Karbo delves into her personal relationship with each of these women…all of them important touchstones for her." –LA Review of Books

"In Praise of Difficult Women" is a collection of short biographies of well-known women who are difficult in what Karbo thinks is the best sense — strong, independent, smart, assertive."
—The Seattle Times

"Karbo, of Portland, Oregon, is embracing being a "difficult woman" in her newest book, which celebrates other women who broke the rules." –Wisconsin State Journal, AP News

"Refreshingly frank, Karbo's book celebrates women who forged provocative identities and found life fulfillment despite the odds they faced. Inspiring reading about women who have shown "that it's all right to occupy our humanity." –Kirkus

"The women chosen are eclectic, while the narrative is researched and informed yet conversationally welcoming...Karbo's fondness for rule breakers and benders is clear, and she defends them through character quirks and missteps—real women lead real and flawed lives." –Foreword

 In Praise of Difficult Women offers many words of wisdom, including sage advice from fashion titan Diana Vreeland, who noted that the only right life to live is "the one you know you want, and you make it for yourself." —Women's Voices ForeSight

"Karbo examines the universal themes that connect each of us to these icons of female badassery and argues that being "difficult" can lead to a more fulfilling life." –BookRiot 

"In 29 takes, Karen Karbo catalogs the ways in which a woman rankles: She can be independent, exacting, impatient, persistent, opinionated, angry, unaccommodating, ambitious, restless, confident, brilliant, articulate, or just plain visible. Nothing is lost on Karbo, from Elizabeth Taylor's double eyelashes to the contents of Martha Gellhorn's travel bag to Amelia Earhart's homemade roller coaster. You'll need two copies!"—Stacy Schiff, best-selling author of Cleopatra: A Life and The Witches 
 
"Part biography, part inspiration, all parts fascinating, In Praise of Difficult Women is a wise and hilarious reminder of the importance of being a pain in the ass. Keep it by your bedside."—Meghan Daum, best-selling author of The Unspeakable
 
"Give me difficult women or give me death. Karen Karbo's In Praise of Difficult Women brings us all back to life by illuminating the paths of women who refused to shut up, sit down, hold still, behave, or smile on anyone's terms but their own. A perfect manifesto as to why now is the time to get loud, unflinching, and brazen, exactly as we are."—Lidia Yuknavitch, author of The Misfit's Manifesto 
 
"Difficult seems absolutely delightful in these absorbing, inspiring, and often surprising portraits that do more than entertain. They raise important questions about femininity and culture, power and bravery—and make us ask these same questions about our mothers, sisters, daughters, and ourselves. Though Karbo masterfully covers a wide range of exceptional women, what unites them is the way they make 'difficult' become a quality not to avoid but to aspire to with gusto."—Lori Gottlieb, New York Times best-selling author of Marry Him
National Geographic, 9781426217746, 352pp.
Publication Date: February 27, 2018
About the Author
KAREN KARBO is the author of multiple award-winning novels, memoirs and works of nonfiction. Her best-selling "Kick-Ass Women" series includes The Gospel According to Coco Chanel: Life Lessons from the World's Most Elegant Woman, which was an international bestseller. Karbo's short stories, essays, articles and reviews have appeared in Elle, Vogue, Esquire, Outside, the New York Times, Salon, and other publications. She is a recipient of a National Endowment for the Arts Fellowship in Fiction, and a winner of the General Electric Younger Writer Award. Karbo lives in Portland, Oregon, where she continues to kick ass.
or
Not Currently Available for Direct Purchase