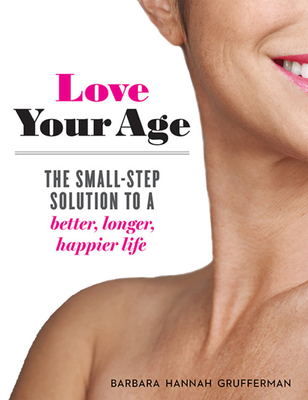 Love Your Age (Paperback)
The Small-Step Solution to a Better, Longer, Happier Life
National Geographic, 9781426218323, 288pp.
Publication Date: February 6, 2018
* Individual store prices may vary.
Description
Filled with healthy habits to help you take charge of your life with wit, energy, and confidence, this inspiring guide will show you how to look, feel, and be your best in a busy, fast-paced world.

Warm, engaging, and user-friendly, this powerful, practical guide to aging gracefully will be an indispensable resource for anyone looking to live their best life. Featuring more than a hundred easy-to-adopt "small steps" -- the foundation for ingrained habits that will yield longer, happier, and healthier years - this book will help enrich your life, from health and fitness to style, work and relationships. From checking in with your doctors to changing your fitness routine, cooling hot flashes, tackling social media and updating your wardrobe, transformation really does begin with one step - and Grufferman provides an easy formula for making and breaking the right habits. Packed with expert tips, myth busters, checklists, real-life anecdotes, and sage wisdom, this book offers a new approach to life after 40 that will inspire, rejuvenate, and energize.

Winner of the Excel Book Award for General Excellence by the Association of Media & Publishing
About the Author
BARBARA HANNAH GRUFFERMAN is a nationally recognized advocate for positive aging and a prominent champion for women over 50. Her first book, The Best of Everything After 50, addressed the concerns of real women with practical advice from experts like Diane von Furstenberg, Frederic Fekkai, and Jane Bryant Quinn. She is a top contributor to The Huffington Post and AARP.org.
Praise For Love Your Age: The Small-Step Solution to a Better, Longer, Happier Life…
"In her new book, published by AARP and National Geographic, [Hannah Grufferman] takes a holistic approach to aging well. She devotes chapters of the book to everything from fitness, food and dental hygiene to menopause, sexuality and social connections." –NJ.com

"[Hannah Grufferman's] narrative voice directs the fun, upbeat tone, but it is the value-packed research on numerous themes and her encouraging advice to take small steps to create healthier habits that make you want to go back to it again, knowing that you will not be preached at, or chastised, like some other self-help books." –Irish Examiner

"This is a thorough guide. No part of your body or midlife experience has been overlooked…It's a well-researched encyclopedia that reads like caring post-it notes from your smart big sister."
–NextTribe

"Important message!" –Diane von Furstenberg

"That positive feeling led to [Barbara Hannah Grufferman] completing five marathons, writing three anti-aging books, including her latest, Love Your Age, becoming an AARP ambassador and staying medication-free." –CBN News

"Barbara Hannah Grufferman's new book will motivate women of all ages to take much better care of themselves by exercising, eating for good health and making an effort to value self-care.  She includes key information on health checks with inspirational advice on how to potentially lengthen your healthspan. I particularly enjoyed the important chapters on brain health.  She offers great tips on how to keep your brain sharp, and how happiness is essential to overall health and wellbeing. The other chapters focus on style, sex, and relationships are also delightful. I loved this book and will recommend it so that others can add healthy habits to their wellness tool box."
- Margaret Nachtigall, M.D., Reproductive Endocrinologist

"With her newest book, Barbara Hannah Grufferman has placed the essential tools for taking control of one's health and life smack in the hands of women of all ages, with wit and warmth. She shares the latest research on fitness, nutrition, brain health and so much more, and encourages us to think about swapping out bad habits for healthy ones. Barbara's recommended small steps—based on science—will empower all of us to live better, longer, happier lives." –Dr. Deborah Antoine, CEO, Women's Sports Foundation