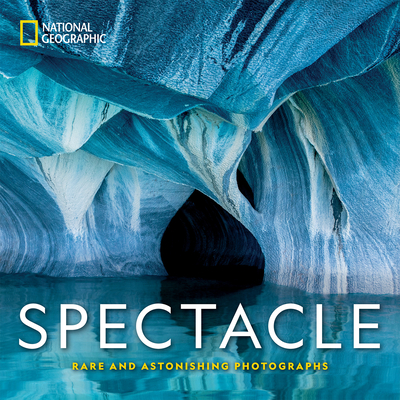 National Geographic Spectacle (Hardcover)
Rare and Astonishing Photographs
National Geographic, 9781426219689, 400pp.
Publication Date: October 23, 2018
* Individual store prices may vary.
Description
An exquisite photo collection showcasing awe-inducing moments from around the world, including the aurora borealis, cities made of neon lights, a great wildebeest migration, a contortionist on display--and more.

In life, there are certain sights that are as beautiful as they are unforgettable--from a majestic supercell to the secrets of a deep blue ice cave to the world's largest library. These fascinating spectacles shock us in their diversity, their complexity, and their epic scale, bringing us the miraculous beauty of our planet. Featuring more than 200 color images, including acclaimed photography from the National Geographic Image Collection, this volume presents a dazzling array of natural and manmade wonders, unusual phenomena, and amusing curiosities. Each page will enlighten and inspire, presenting our world at its best.
About the Author
Mark Thiessen has been a photographer with National Geographic since 1990 and on staff since 1997. He is widely published in National Geographic magazine, National Geographic Adventure, and National Geographic Traveler. In 1996, Thiessen began a personal photography project on wildland firefighters that took him to the front lines of wildfires every summer. To better understand the world of this little-known subculture, he became a certified wildland firefigheter. His photographs for the National Geographic cover story "Under Fire: Why the West Is Burning" earned first-place recognition by Pictures of the Year International. Thiessen also directs the National Geographic photo studio and was featured in Out There, a series aired on the National Geographic Channel. He lives in Washington, D.C.
Praise For National Geographic Spectacle: Rare and Astonishing Photographs…
"Can we still be awed by pictures, in a world in which everyone with a cellphone is a documentarian? NatGeo again makes the case that the best photographers have something new and, yes, awe-inspiring to show us." –USATODAY.com  

"National Geographic has been known for publishing breathtaking photos for 130 years. Now it has put together 200 of its most spectacular images in a collection chosen by the organization's editors.
The photos depict an array of marvels ranging from a shark feeding frenzy in the depths of the ocean to the blue blaze of burning sulfur to lava during a volcano eruption." –USA Today

"It was common for me to turn the page and be completely blown away." –Doingdeweydecimal.com

"How in the name of Christmas are you going to surprise and delight your friends and family with fun and festive gifts they'll remember forever? …a breathtaking collection of inspiring photographs curated by National Geographic editors…features more than 200 astounding photographs depicting an array of marvels." –Travel by Entree

"Wow National Geographic has done it again. Another awesome book chock full of beautiful photographs capturing nature, cities, and people. It is simply breathtaking." –A Bookish Way of Life   

"There are no words to describe the gorgeous images showcased in this book."
–What is That Book About

"This book is the perfect reminder of just how awe-inspiring the world we live in and the people who live in it can be." –Thoughts from a Highly Caffeinated Mind

"WOW. That's it. Nothing more need be written." –Broken Teepee 

"The photographs are so fantastic on their own, that it will be hard to tear your eyes away from them." –Books are My Thing