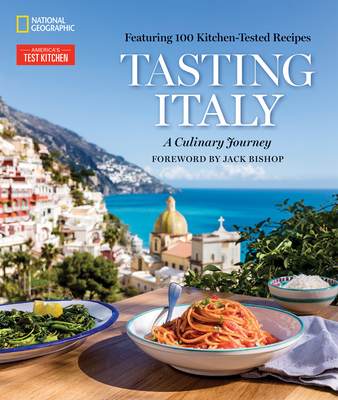 Tasting Italy
A Culinary Journey
Hardcover

* Individual store prices may vary.
Praise For Tasting Italy: A Culinary Journey…
"Effectively arranged by region, the 100 recipes by America's Test Kitchen and photographs by National Geographic are a love letter to Italy." –Philadelphia Enquirer 

"This handsome volume is really two books in one: a travel guidebook and a cookbook. Anyone who's ever been to Italy – or enjoyed a bowl of pasta (isn't that everyone?) – will sigh with pleasure over this delicious, multicourse "Tasting." –USATODAY.com

"This comprehensive cookbook shares 100 recipes and introduces readers to cuisine from all 20 regions of Italy. With clear instructions and rich photography, the book is an excellent starter for any home cook who wants to learn the ins and outs of the Italian kitchen." –AFAR

"This is yet another cookbook from America's Test Kitchen, but this time they've teamed up with National Geographic to provide maps and illustrated guides to the varying ingredients, dishes, and cuisines of Italy. The book also provides recipes for signature dishes in each region, as well as secret, off-the-beaten path foods that you can create at home thanks to their expert recipe testing and development." –Epicurious

"Along with gorgeous photography, illustrated maps, lists of culinary festivals, and poetic prose, this book is a must for Italophiles." –Publishers Weekly

"A collaboration between National Geographic and America's Test Kitchen, the book features essays written by Italian food authority Julia Della Croce and food journalist Eugenia Bone, with an introduction by ATK's Jack Bishop, and includes 30 maps, 100 ATK-tested regional recipes, and 300 photos. Location-specific details—the distinctions between various wine-growing regions, the best farmers' markets in Venice—lend a strong sense of place." –Publishers Weekly

"This beautifully illustrated travel cookbook will be enjoyed by all who love Italy and its food."
–Library Journal 

"With over 100 recipes, 300 photographs and 45 maps, it's the perfect gift for Italophiles. It's a wonderful coffee table book and top-notch cookbook, but it's also a travel guide to Italy's 20 regions, filled with vibrant, full-color photos and explorations of the edible treasures that make each area unique." –BookPage
 
"…more meat than a coffee table book, but gorgeous enough for just flipping through on a cold winter's day and dreaming of the Mediterranean." –Bryanna Plog 

"I was blown away by just how gorgeous this cookbook is. It's like a trip to Italy in a book with all kinds of photographs and stories." –I Wish I Lived in a Library

"It's always a good day when I get a gorgeous cookbook to drool over…[but it's] much more than a cookbook. It's a travelogue celebrating the history of food in Italy through each of its regions and it is a big book and very beautiful." –Kahakai Kitchen  

"Even armchair travelers will be entranced by this beautiful book." –Bookchickdi

"The first thing I thought when I leafed through Tasting Italy  is that this is one heck of a gorgeous book." –Man of La Book

"This book is just an all-around delight. From the photos to the anecdotes to the recipes it's as close to a trip to Italy as you can get in the pages of a book." –Broken Teepee

"With amazing recipes, beautiful photography, and loads of information, you can get a taste of every part of Italy without ever leaving home." –Traveling Between



National Geographic, 9781426219740, 384pp.
Publication Date: October 23, 2018
About the Author
AMERICA'S TEST KITCHEN: The recipes in this book have been tested, written, and edited by the test cooks, editors, and cookware specialists at America's Test Kitchen, a 15,000-square-foot kitchen located in Boston's Seaport District. It is the home of Cook's Illustrated magazine and Cook's Country magazine, the public television shows America's Test Kitchen and Cook's Country from America's Test Kitchen, and the online America's Test Kitchen Cooking School.

JULIA DELLA CROCE is one of America's foremost authorities on Italian food. She is the author of more than 13 cooking and travel books. She has also conducted cultural and culinary tours to Italy. Her work has appeared in many publications including the New York Times, Food & Wine, and the Washington Post. She has been broadcast on countless radio and national television shows, including on the Food Network. She lives in New York City.

EUGENIA BONE is a nationally known food journalist and author. She has written for Saveur, Food & Wine, Gourmet, Martha Stewart Living, the New York Times, and the Wall Street Journal. She is the author of five books. Her work has been anthologized in Best Food Writing, Saveur, Cooks, and The Food & Wine Cookbook. Bone has lectured widely and judged food and wine competitions, and she frequently appears on national television and radio. She lives in New York City.