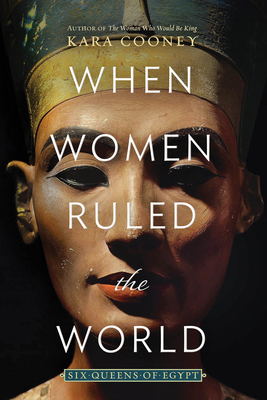 When Women Ruled the World
Six Queens of Egypt
Hardcover

* Individual store prices may vary.
Other Editions of This Title:
Paperback (2/4/2020)
Compact Disc (11/30/2018)
MP3 CD (11/30/2018)
Compact Disc (11/30/2018)
Praise For When Women Ruled the World: Six Queens of Egypt…
"An accessible spin through the corridors of power in ancient Egypt, corridors that converged on thrones on which women reigned…Cooney provides welcome insights into pharaonic politics while bringing numerous little-known Egyptian women to the fore." –Kirkus

"Although Cooney occasionally flirts with gender essentialism, this book shines as an introduction to ancient Egyptian society and beliefs centered around elite women's experiences." –Booklist

"…this book breaks from trends in studies of ancient Egypt…Cooney discusses the women's leadership…and speculates about what they must have experienced…her stories of these remarkable women…will enchant those wishing to imagine what ancient Egyptian court life was like."
–Publishers Weekly 
 
"Not since Leonard Cottrell's Lady of the Two Lands (1966) has such an engrossing, well-researched collective study of Egyptian power queens been available. Definitively recommended for anyone with an interest in ancient Egyptian civilization or women's studies." –Library Journal

"When Women Ruled the World (or at least the Egyptian part of it) draws the reader into many less known aspects of ancient history with an informal prose and style for the general reader."
–NY Journal of Books  

"To this very day, a majority of countries have never elected or appointed a female leader, and yet one of the oldest civilizations in the world, the ancient Egyptians, had several women take the role of pharaoh during their long history…Dr. Cooney breaks down the lessons our modern world might take from their examples." –Houston Public Media

"Cleopatra may have ruled more than two thousand years ago, but her reign is still teaching Kara Cooney about the relationship between women and power today."  –Daily Bruin

"…full of shadowy stories of murder, incest, political power plays and enough intrigue to satisfy even the most jaded reader." –HoustonPress

"I loved the lens through which this book viewed these women, studying their reigns and characteristics to see why women don't rule the world more and pointing out reasons why they should. I loved that this book used both historical and current context when discussing the theme." - Ms. Nose in a Book
 
"This is a truly fascinating look at 6 queens of Egypt…Their stories are rich and it's important that they not be forgotten. This book assures that a new generation will learn about them and keep their memories alive." –Broken Teepee
 
"I believe the takeaway for us today is that women have ruled before, and women will rule again. It is only a matter of time." –Literary Quicksand
 
"I was absolutely entranced by this book." –A Chick Who Reads





 
National Geographic, 9781426219771, 400pp.
Publication Date: October 30, 2018
About the Author
KARA COONEY is a professor of Egyptology at UCLA. Her academic work focuses on death preparations, afterlife beliefs, and gender studies. She has participated in digs with the Metropolitan Museum of New York at the Royal Pyramid complex of Senwosret III and the Theban Necropolis with Johns Hopkins University. She appeared as a lead expert in the popular Discovery Channel special The Secrets of Egypt's Lost Queen, and is a recurring team member of the History Channel's Digging for the Truth. Her book The Woman Who Would Be King was published in 2014.