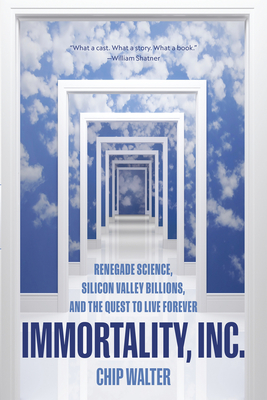 Immortality, Inc.
Renegade Science, Silicon Valley Billions, and the Quest to Live Forever
Hardcover

* Individual store prices may vary.
Other Editions of This Title:
Paperback (1/7/2020)
Praise For Immortality, Inc.: Renegade Science, Silicon Valley Billions, and the Quest to Live Forever…
"Artificial intelligence is being heralded as the next big thing, but a cluster of scientists, technologists and investors are aiming higher. In the vernacular of Silicon Valley, where many of them are based, their goal is nothing less than disrupting death, and their story is at the center of "Immortality, Inc." by science journalist Chip Walter…While "Immortality, Inc." is focused on aging and the efforts to defy it, the book is also a gripping chronicle of private-sector experimentation and ingenuity in the face of inertia in Washington…An end to aging? Ponce de León would have been impressed."—Wall Street Journal

"His fascinating account will interest those who want to know more about Silicon Valley's rainmakers, as well as where science now stands on preventing and curing disease." –Publishers Weekly

"Chip Walter's new book is a deep dive into the very real efforts of Silicon Valley-funded scientists to develop therapies that might aid humans in living for hundreds of years and eventually in perpetuity. If Walter's book is right, humanity may soon strike a profound blow against an adversary that so far still has a perfect record. The same people who disrupted media, commerce, transportation, entertainment, relationships and countless other sectors are now poised to disrupt the Big Sleep." –San Jose Metroactive
 
"Chip Walter has written an extraordinary book. What a cast. What a story. What a book."
--William Shatner
 
"Can we live forever? Maybe, maybe not. But either way, you'll love the book. More than anything, Walter is a first rate story teller. He walks a fine line, delivering excellent science while mesmerizing you with the nitty gritty details behind the histories and personal stories of the book's main characters. And at bottom are big and universal questions. You'll never see the question of our mortality in quite the same way after reading this book. And you'll never be bored." - Judy Cameron, Professor and Director of the Healthy Brain Aging Workgroup, University of Pittsburgh

"The quest to conquer aging is one of the most extraordinary developments in science today. We may not live to see the end of it, but we can watch the beginning. Immortality, Inc. is a colorful, entertaining, and up-to-date tour of the frontier." –Jonathan Weiner, [Pulitzer Prize–winning] author of The Beak of the Finch and Long for This World
 
"If you think everybody talks about immortality but few do anything about it, Chip Walter's bold examination of those who do is worth the read."—Herbert Boyer, co-founder of Genentech, Inc., and professor emeritus, University of California–San Francisco
 
When future generations find themselves living in a world where life spans reach hundreds of years, readers can look back at Walter's book to see how it all started. This book will age well."
—Anthony Lake, former National Security Advisor and Executive Director of UNICEF
 
"Chip Walter has written a wickedly compelling account of an endeavor that seems ridiculously far-fetched—until you read it. Then it seems enticingly real. The book reads like a thriller, and has some of the clearest explanations of tough science I've ever read. I actually now believe these folks can do something like they imagine. Crazy! Or is it...?"
—Grant Oliphant, president of the Heinz Endowments and author of Ring of Years
 
"I don't know whether I want to live forever, but in his captivating and informative book, Immortality, Inc., Chip Walter tells us how and when it might just happen. Walter's crisp, clear, colorful prose and his compelling character portraits transform the illusive and unlikely idea of immortality into a vivid and exciting read."—Lee Gutkind, editor, of Creative Nonfiction
 
"With a reporter's energy and curiosity, Chip Walter has pursued . . . the scientists, Silicon Valley entrepreneurs, and others who share a conviction, or a hope, that age is a curable disease." —Jeffrey Frank, author of Ike and Dick: Portrait of a Strange Political Marriage
 
"Chip Walter has a unique talent for using humorous figures of speech and insightful factoids to turn the droll subject of death research into something curious and interesting [and] gives the reader a chance to be a 'fly on the wall' in the most important board rooms of Silicon Valley."
—Martine Rothblatt, creator of Sirius XM and CEO, United Therapeutics Corporation
 
National Geographic, 9781426219801, 320pp.
Publication Date: January 7, 2020
About the Author
CHIP WALTER is a science journalist, filmmaker, and former CNN bureau chief whose books include Last Ape Standing and Thumbs, Toes, and Tears. His writing has appeared in The Economist, The Wall Street Journal, Scientific American, and National Geographic, to which he contributed the January 2015 cover story "The First Artists." He has been interviewed on "All Things Considered" and Michio Kaku's "Science Fantastic."
or
Not Currently Available for Direct Purchase