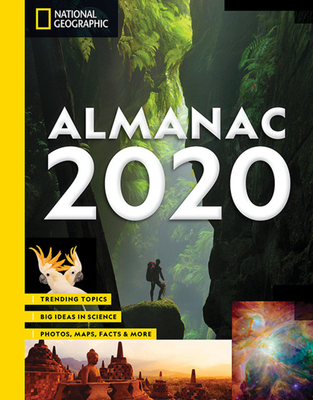 National Geographic Almanac 2020
Trending Topics - Big Ideas in Science - Photos, Maps, Facts & More
Paperback

* Individual store prices may vary.
Praise For National Geographic Almanac 2020: Trending Topics - Big Ideas in Science - Photos, Maps, Facts & More…
"Like previous editions, this latest almanac from National Geographic is full of fascinating information, from medicine, biology, and astronomy, to geography and beyond. Timely topics covered include regulations against plastic straws, dwindling honeybee populations, and antibiotic resistance. With just a few items per page (no long articles here) and pithy text, this is a browser's delight—each page bursts with color and images, and there are plenty of charts, time lines, lists, and maps. Featured throughout are quotes from a variety of figures: Leonardo DiCaprio, Pablo Neruda, and Rachel Carson, to name a few eclectic examples…A fun, breezy resource for fans of National Geographic; kids and teens will enjoy it, too." –Library Journal

"I found myself utterly enthralled throughout its pages.  The photos were remarkably captivating, but the information was so varied and presented so approachably, that I almost felt like I understood every subject.  Needless, to say, I did not, but for the first time I felt like I could possibly understand things like dark matter." –Amy's Book-et List
 
"…it's an ultra dose of everything the magazine does well, broken up into small, easily consumed tidbits. It's perfect for trivia nerds and kids: most of the topics are covered in two pages or less, broken up with NatGeo's trademark stunning photography or infographics and timelines for context." –Unabridged Chick
 
"And who better to compile all the wonders, than the amazing team at The National Geographic Society? You know they mean business – but also, they make learning FUN!" --Bookapotamus
"This is a visually stunning and comprehensive collection of content, and one I think will make a great gift for the upcoming holiday season!" –Instagram: @sixminutesforme
 
"I had so much fun flipping through this book…This would make a great gift for anyone that loves trivia or just likes learning new things. It's also a great book for someone who wants to be a little ahead of the curve for information heading into the new year." –Broken Teepee
"These photos were stunning, bright, eye catching, and vivid." –The Pages In-Between
 
"There is so much rich content here, it's a great book to keep on your coffee table and thumb through when you have a few minutes…Whether you are studying up to be on Jeopardy, have a budding scientist in the family, or are curious about our world (and beyond), Almanac 2020 is a wonderful book for the entire family. The eye-catching graphic layout is not your grandfather's almanac. It would make a great gift." –Bookchickdi
 
"From trending topics like pioneering women to ways you can help save the reefs this book literally has it all. There is an abundance of information, fun quizzes, pop culture lists, maps, and each page is filled with beautiful photos." –Instagram: @jennsbookvibes
 
"Almanac 2020 will make you feel equal parts dumb (because there is so much we don't know) and smart (because you will finish this knowing so much more information about a huge variety of things), and that's the best part about the book." –Stranded in Chaos
National Geographic, 9781426220524, 400pp.
Publication Date: August 27, 2019
About the Author
One of the world's leading nonfiction publishers, NATIONAL GEOGRAPHIC has published more than 1,700 titles, featuring such categories as history, travel, nature, photography, space, science, health, biography, and memoir. A portion of its proceeds is used to fund exploration, conservation, and education through ongoing contributions to the work of the National Geographic Society.

CARA SANTA MARIA (foreword) is an award-winning journalist, science communicator, television personality, producer, and podcaster. She is a correspondent on National Geographic's Channel's Explorer and Netflix's Bill Nye Saves the World. She is the creator and host of a weekly science podcast called "Talk Nerdy with Cara Santa Maria" and co-hosts the popular "Skeptics' Guide to the Universe" podcast. Santa Maria's work has been featured on Al Jazeera America, TBS, Fox, The Huffington Post, and the Weather Channel. Prior to her career in media, she taught biology and psychology courses to university undergraduates and high school students in Texas and New York.