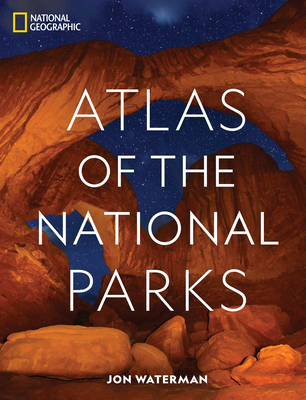 National Geographic Atlas of the National Parks
Hardcover

* Individual store prices may vary.
Praise For National Geographic Atlas of the National Parks…
"National Geographic's Atlas of the National Parks showcases these natural treasures through photographs, maps, and graphics." –National Geographic 

"Following coverage of the U.S. parks system as a whole, this gorgeous guide from former ranger Waterman explores all 61 national parks, 33 of them in depth…Visitors to these wonders, as well as browsers and students in middle school and up doing assignments, will find a wealth of information on the natural history of the destinations; the flora, fauna, and geological features to be found there now; and numerous other details, from social history to vital statistics, such as location, size, and highest point. The work offers plenty of well-researched and effectively written textual material, as well as numerous crisply detailed photos, maps, and illustrations per spread, in color and black-and-white as appropriate. The quality of this tome and its emphasis on current features make it worth a purchase even where libraries own [it]." –Library Journal
 
"History buffs will enjoy the many old photos and maps that show the parks as they were. Science fans will be attracted to the topographical maps and information about the flora and animals found in the parks, and art majors will love the historical paintings that feature the parks." –Bookchickdi
 
"If you have visited a specific Park you can look it up and relive your trip. If you are planning a trip you can learn some valuable information about the place you want to visit. If you want to dream, this book lets your soul take wing." –Broken Teepee
 
"You know the photos are going to be stunning when National Geographic is involved and these do not disappoint." –Bookapotamus
 
"Also, if you don't finish this book without wanting to sing This Land is Your Land by Woody Guthrie, it's like I don't even know you." –Stranded in Chaos
 
"This is one of the most exciting books I have received in a long time, simply because of its beautiful pictures and the amount of places it adds to my travel bucket list…The land itself is bountiful and plentiful, with innumerable activities and destinations containing untold adventures waiting to be had. A quick flip through these pictures brings a unique perspective to our own understanding of the US." –Amy's Book-et List
"This book gave me some serious wanderlust…So many times we dream of beaches far away for our next vacation, but I think we're all guilty of realizing the beauty of our own backyards. This book makes me want to sell all my possessions, buy an RV, and travel across the United States to visit all these breathtaking places." –Instagram: @happiestwhenreading 
 
"I found myself being drawn in to topics and areas of the country that I wouldn't have thought would interest me." –Literary Quicksand
 
"This atlas is full of stunning photos just as you'd expect from National Geographic. My travel bucket list has expanded exponentially after flipping through its pages." –Instagram: @readingbetweenthe_wines
National Geographic, 9781426220579, 432pp.
Publication Date: November 19, 2019
About the Author
JON WATERMAN is an award-winning author, filmmaker, and adventurer who has received three grants from the National Geographic Society Expeditions Council. In addition to exploring and documenting various parts of the United States, he is a former ranger for the National Park Service and a longtime wilderness guide. His writing has appeared in the Washington Post, the New York Times, Adventure, Outside, and Backpacker and his books include Running Dry, In the Shadow of Denali, Where Mountains Are Nameless, and Arctic Crossing, among others.