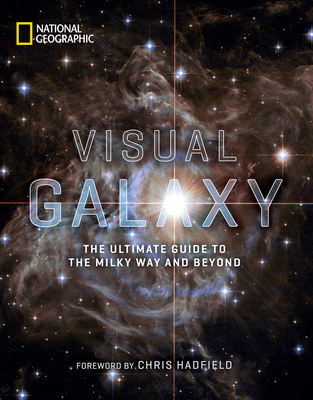 Visual Galaxy
The Ultimate Guide to the Milky Way and Beyond
Hardcover

* Individual store prices may vary.
Praise For Visual Galaxy: The Ultimate Guide to the Milky Way and Beyond…
"This a world-expanding book of our universe. If you feel small on the daily, like I do when I consider the vastness of space, this picture book will shrink you even more.
It's hard to put into words how beautiful these pictures are. This is the perfect book to keep in a living area for guests. Would also be amazing in a classroom, possibly inspiring some future astronauts or engineers." –Amy's Book-et List
"From the first image of two galaxies colliding, I knew this book was going to be amazing…Overall, a remarkable book for any space enthusiast." –Stephanie's Book Reviews
 
"Confession: I've become addicted to these National Geographic books. The quality is outstanding as we've always expected from Nat Geo, and I learn so much from reading them. Visual Galaxy is exactly what you'd expect and more. It's our beloved Milky Way in pictures, looking at its past, present, and future…it also gives a glimpse into our galaxy's position within the vast universe." –Jennifer - Tar Heel Reader
 
"Five words: the perfect coffee table book! " –Literary Quicksand
 
"Swoon. This is another stunner from National Geographic. As one would expect, the book is full of breathtaking photos that bring you into space. It's also a great reminder of just how tiny the Earth is when you start to consider the whole of the galaxy…It's the perfect book to just get lost in. Ha – lost in space." –Broken Teepee
 
"I was so wrapped up in the facts and pictures that I lost track of time and then I had finished it." –A Dream Within a Dream
 
"@natgeo continues to publish amazing stories of our world, and beyond! Visual Galaxy was released last month and is full of incredible photos, illustrations, and explanations of the universe. I've loved introducing @natgeo to my own kids - a whole new generation of humans thirsty for knowledge and hungry to explore our world." –Instagram: @theunreadshelf
 
"That's the best part about National Geographic, we all know them and we know that they are the pinnacle of great so if someone sees these books- they are most certainly going to pick them up and get sucked in…Not only did I love this book but my 14 and 11 year-old did as well, and it was fun to have discussions about it." –Stranded in Chaos
 
"If the information itself wasn't enough this book is FULL of gorgeous photos and illustrations of things like supernovae, star clusters, solar flares and planets." –Ms. Nose in a Book
 
"The Foreword from Col. Chris Hadfield is a short love letter to everyone inspired by the sky and what is just past what we can see; I'm a Hadfield fan already but his brief introduction was genuine, awe-filled, and inspiring. This book is perfect for my aspiring astronaut as it has giant, gorgeous photos, artistic renderings, diagrams, and other pictures detailing the huge and little mysteries of space." –Unabridged Chick
National Geographic, 9781426220609, 324pp.
Publication Date: October 22, 2019
About the Author
One of the world's leading nonfiction publishers, NATIONAL GEOGRAPHIC has published more than 1,700 titles, featuring such categories as history, travel, nature, photography, space, science, health, biography, and memoir. A portion of its proceeds is used to fund exploration, conservation, and education through ongoing contributions to the work of the National Geographic Society.

CHRIS HADFIELD, the first Canadian astronaut to space walk, served as Commander of the International Space Station in 2013. His books, photographs, and videos chronicling his voyages in space have made Hadfield a celebrity around the world.