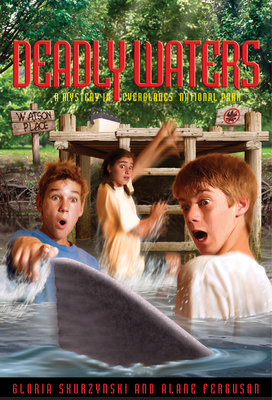 Deadly Waters: A Mystery in Everglades National Park (Paperback)
A Mystery in Everglades National Park
National Geographic Society, 9781426300936, 157pp.
Publication Date: October 9, 2007
Description
The Landon family is Southbound--headed for Florida to investigate a mysterious illness plaguing endangered manatees in Everglades National Park. Jack, Ashley, and their friend Bridger soon find themselves in deadly waters with a seven-foot shark, an injured manatee--and a mystery to solve. Who was the stranger in the speedboat who snatched Jack's camera? And what does he have to do with the manatees? Join the heart-stopping chase through a maze of mangrove islands to find out.
About the Author
Gloria Skurzynski is an award-winning author who has written more than 50 children's books. Her nonfiction book Almost the Real Thing won the American Institute of Physics' Science Writing Award. She has also penned numerous works for National Geographic, including Are We Alone?, an IRA/CBC Young Adults' Choice for 2006. Skurzynski lives in Boise, Idaho. Alane Ferguson's skill at weaving mystery and suspense into middle-grade fiction won her an Edgar Award for Show Me the Evidence. Along with Gloria Skurzynski, she has cowritten many books in National Geographic's Mysteries in Our National Parks series. Once they decide on a plot they do on-site research in the featured park, then collaborate by phone, fax, and e-mail to develop the page-turning plot. Ferguson lives in Elizabeth, Colorado.
Advertisement