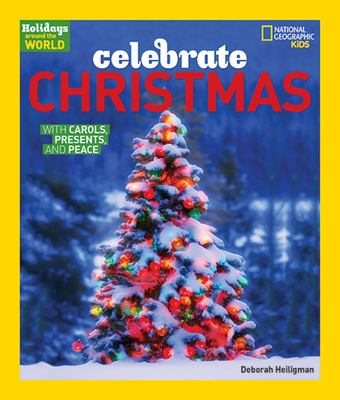 Celebrate Christmas: With Carols, Presents, and Peace (Hardcover)
With Carols, Presents, and Peace
National Geographic Society, 9781426301223, 31pp.
Publication Date: October 9, 2007
Description
December 25th is a day of peace and festivity, the culmination of a season of worldwide goodwill. Carol singers give voice to the joyful spirit, trees are decorated, and gifts exchanged between families and friends. A name-check of the gift-bearers awaited by children reflects the global nature of the celebration: Pere Noel in France, Santa Claus in America, La Befana in Italy, and the Three Kings of Hispanic cultures. With first-person narrative, informative back matter, and evocative photography, Celebrate Christmas is a rich historical and cultural resource for children.
National Geographic supports K-12 educators with ELA Common Core Resources.
Visit www.natgeoed.org/commoncore for more information.
About the Author
Deborah Heiligman is the award-winning author of many children's books. Her ability to simplify complex subjects for young readers, specializing in the areas of science and social studies, has brought her wide acclaim. Her National Geographic titles include Honeybees, Babies: All You Need to Know, and High Hopes: A Photobiography of John F. Kennedy. She lives in New York City. Check out www.Deborah Heiligman.com and see what's new to CELEBRATE....
Praise For Celebrate Christmas: With Carols, Presents, and Peace…
"The main text is succinct and appropriate for reading aloud....Decorating the pages are numerous crisp, full-color photos depicting celebrations....An attractive, informative title that will be welcomed in any library." Booklist (Review of Celebrate Hanukkah)

"These books are such an easy way to show your child the different cultures and celebrations around the world. Heiligman does a great job of bringing otherwise complex subjects to life for children." Jellymom Book Reviews
Advertisement