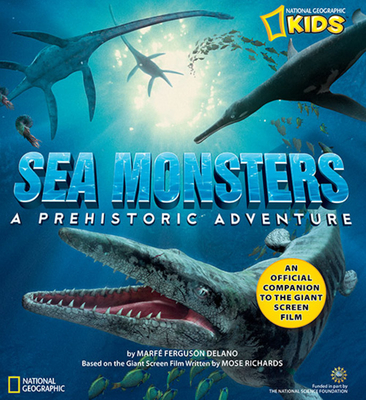 Sea Monsters: A Prehistoric Adventure (Paperback)
A Prehistoric Adventure
National Geographic Society, 9781426301629, 32pp.
Publication Date: October 9, 2007
Description
Relive the wonder of Sea Monsters, National Geographic's 3-D Large Format Film, and learn more about these weird prehistoric creatures of the deep. Here's the Official Children's Companion Book to the giant-screen film which launches in October on giant screens nationwide. Sea Monsters leads kids into the Late Cretaceous Era, 80 million years ago. Stunning images of giant sharks, enormous squids, massive marine reptiles, and flying creatures with razor-sharp teeth will thrill young imaginations. Follow the story of a marine reptile called Dolichorhynchops--Dolly for short--as she braves the dangers of her inland sea home. Enjoy the cool digitally generated images of creatures like Tylosaurus, a whale-size predator, and the long-necked Styxosaurus. The brief text will engage young readers in a fun, unthreatening way. Sea Monsters is a wild and informative read for all who have or haven't yet seen this wonderful movie.
About the Author
Marfe Ferguson Delano lives within biking distance of George Washington's Mount Vernon and has long been curious about her famous historic neighbor. Her curiosity led to a four-year research project and the discovery of a whole host of less-famous historic neighbors--the enslaved people who lived with George and Martha on their plantation farm and now so richly populate the beautifully written pages of Master George's People: George Washington, His Slaves, and His Revolutionary Transformation. Her other books for National Geographic include Helen's Eyes: A Photobiography of Annie Sullivan, Helen Keller's Teacher. To learn more, visit marfebooks.com.
Advertisement