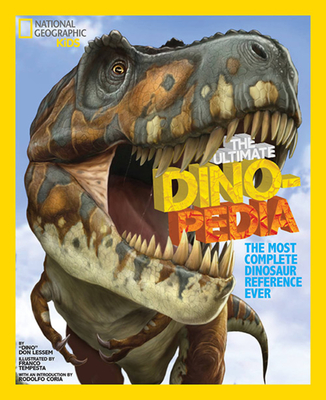 National Geographic Kids Ultimate Dinopedia (Hardcover)
The Most Complete Dinosaur Reference Ever
National Geographic Children's Books, 9781426301643, 272pp.
Publication Date: October 12, 2010
* Individual store prices may vary.
Description
In the crowded field of dinosaur books, this is the very first to offer children ages 7 to 10—those at the height of their enthusiasm for the prehistoric giants—complete coverage of all the known dinosaurs.
Don Lessem, author of more than 60 books—most of them about dinosaurs—teams up with Franco Tempesta, a talented illustrator with a fresh and appealing style. The exciting result is an accessible, visually stunning book that's packed with facts that kids can use to impress their friends and families.
The Ultimate Dinopedia is organized by the periods that are well known to young enthusiasts: Triassic, Jurassic, and Cretaceous. It includes almost every dinosaur ever discovered, and highlights 125 species that scientists know sufficiently to describe in rich detail. Special features include How We Know What They Looked Like, Baby Dinosaurs, Great Dinosaur Goofs, and much more. Every featured dino gets a fact box that delivers important information at a glance—Scientific Name, Discoverer, Place and Date of Discovery, Length, Habitat, Diet, Fossils, Fun Facts, and Range Map. This book provides—in fabulously illustrated, kid-friendly form—all the information an 8-year-old fact hound needs to lord that knowledge over parents and teachers!
About the Author
Don Lessem has written more than 50 books on dinosaurs and other animals for children and adults. He led the construction of the largest dinosaur skeleton, Argentinosaurus, and the largest meat-eating dinosaur, Gigantosaurus. Lessem was an adviser on the movie Jurassic Park, has hosted and written television documentaries, creates museum exhibitions on dinosaurs, and founded the two largest charities for dinosaur research.

Franco Tempesta is an illustrator who specializes in the depiction of dinosaurs and other primitive mammals. A member of the Italian Illustrators Association, he has worked with National Geographic Children's Books, Random House, and the Smithsonian Institution. His work can be seen in titles such as Little Kids First Big Book of Dinosaurs. Tempesta lives in Verona, Italy. To learn more, visit francotempesta.eu.

Rodolfo Coria is a paleontologist who works with the National Scientific and Technical Research Council of Argentina. He is renowned for studying and naming some of the largest known dinosaurs, including the Argentinosaurus and Giganotosaurus. A member of the Paleontological Society and the Explorers Club, he specializes in dinosaurs from Patagonia.
or
Not Currently Available for Direct Purchase