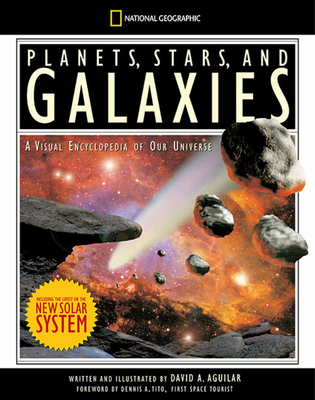 Planets, Stars, and Galaxies: A Visual Encyclopedia of Our Universe (Hardcover)
A Visual Encyclopedia of Our Universe
National Geographic Society, 9781426301704, 191pp.
Publication Date: October 9, 2007
Description
Finally, it's here The farthest reaches of our universe captured in atlas form for young readers. Planets, Stars, and Galaxies is the space book that pushes the boundaries of man's ultimate frontier. The engaging, educational text, written in collaboration with National Geographic experts, includes the latest discoveries about our universe; while specially commissioned artwork by the author illuminates page after page.
Exciting as well as enlightening, Planets, Stars, and Galaxies belongs on every family bookshelf, providing easy reference for school reports and compelling reading on the myriad mysteries beyond our world. With vivid illustrations and superb photography, this beautiful book puts the wonders of space into every child's hands. This engaging, provocative reference work includes: the new solar system including dwarf planets Pluto, Ceres, and Eris;the latest developments in space exploration, science, and researchhow a star is born and dies, "weird worlds," the "galactic zoo," and more;fun facts about space and amazing new imagesSaturn's rings, Jupiter's moons, and Hubble's deep-space view;first-hand accounts from scientists and astronautswhat it's like to study the universe and to live in space;a fascinating look into our future in space: What space travel might hold in a reader's own lifetimemoon colonies, hotels on Mars? How will the universe end?questions to ponder, such as "Is there other life in the universe?"an illustrated timeline of space research and exploration, star charts, moon maps, fact boxes, and helpful scientific diagrams.
About the Author
David A. Aguilar is the Director of Science Information at the Harvard-Smithsonian Center for Astrophysics in Cambridge, Massachusetts. Previously, he was the Director of the Fiske Planetarium and Science Center at the University of Colorado. An expert in astronomy and a talented artist, his work reflects his passion for bringing the wonders of space to wider audiences. In this, his first book for National Geographic, he presents the latest discoveries in space to young imaginations in an engaging and scientifically accurate way. David Aguilar lives in Boston, Massachusetts.
Advertisement