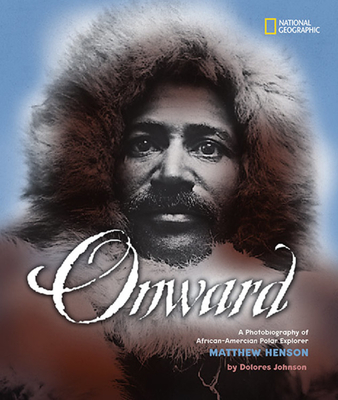 Onward: A Photobiography of African-American Polar Explorer Matthew Henson (Paperback)
A Photobiography of African-American Polar Explorer Matthew Henson
National Geographic Children's Books, 9781426302688, 64pp.
Publication Date: December 26, 2007
* Individual store prices may vary.
or
Not Currently Available for Direct Purchase
Description
The conquest of the North Pole was an elusive, almost impossible goal at the beginning of the last century. But a son of patrician parents, Robert E. Peary, and a son of sharecroppers, Matthew Henson, shared a dream of conquering the unconquered North Pole and were brave enough to risk their lives numerous times before they finally succeeded. Henson's great physical stamina and his ability to speak Inuit and develop warm relationships with the peoples of the Arctic were indispensable to the quest. He mastered the complexities of the dog sled and led the team across the layers of ice that covered the frigid, threatening Arctic Ocean. Henson and Peary's jubilation at finally reaching the Pole was later dashed when controversy swirled around their achievement. Even after their deed was recognized, African American Henson's contribution was largely overlooked. It took the world many years to hail him as a hero of exploration.
About the Author
Dolores Johnson lives in Los Angeles, CA. She is the author and/or illustrator of more than 17 books for children, many on African-American themes. They include "Now Let Me Fly: The Story of a Slave Family" and "The Children's Book of Kwanzaa." This is her first book for National Geographic. "From the Hardcover edition."
Praise For Onward: A Photobiography of African-American Polar Explorer Matthew Henson…
"Stunning archival photographs from the early 20th century help tell the inspiring story of the African-American polar explorer. The story demonstrates that fortitude, strength, and loyalty are not determined by the color of one's skin, but by the determination of one's spirit." —starred review, School Library Journal
Advertisement