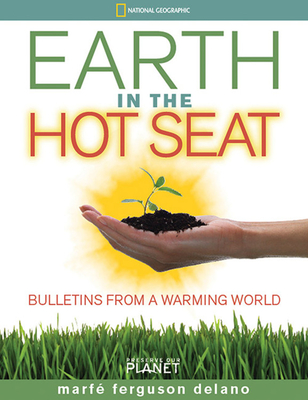 Earth in the Hot Seat (Hardcover)
Bulletins from a Warming World
National Geographic Children's Books, 9781426304347, 64pp.
Publication Date: March 10, 2009
Other Editions of This Title:
Library Binding (3/10/2009)
* Individual store prices may vary.
Description
Earth in the Hot Seat is a stunning, magazine-like presentation that celebrates the Earth and clearly explains the dangers and challenges of global warning. This beautiful volume is also a showcase for National Geographic Society's environmental mission programs. Librarians and teachers will appreciate a book that explains the science of this global threat succinctly and visually, and is a call-to-arms to help the Earth. Readers will enjoy many fun features, from climate connections in global hotspots, to amazing before and after snapshots, to questionnaires answered by climate scientists and celebrities.

The look of Earth in the Hot Seat is modeled on National Geographic Magazine design, with superb photography taking the reader to the heart of the matter. The "Bulletins" format offers easy-to-read reports from scientific and environmental frontiers. Global warming is defined in a manageable way, evidence is examined, and consequences are projected. The text explores both global and local approaches to climate change, with personal accounts and real-life stories. The book also includes a quiz and tips on how to calculate and reduce your personal carbon footprint.

Award-winning author Marfé Ferguson Delano combines beautiful writing, scientific explanation, and long experience of the National Geographic Society to produce an outstanding environmental book for children. This is a landmark work to educate, entertain, and most of all, inspire the next generation of the Earth's custodians.
About the Author
Marfé Ferguson Delano is the author of 14 books for National Geographic, including Genius, A Photobiography of Albert Einstein, which was an Orbis Pictus Honor Book, and Inventing the Future: A Photobiography of Thomas Alva Edison. Her latest title for National Geographic is Helen's Eyes, A Photobiography of Annie Sullivan. She is a graduate of Duke University. She lives in Alexandria, VA.