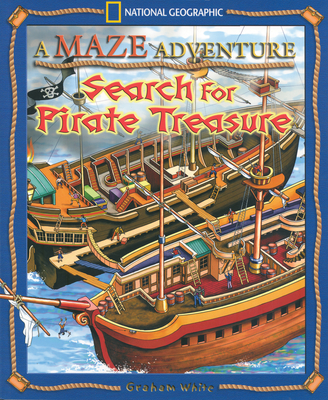 Search for Pirate Treasure (Paperback)
National Geographic Society, 9781426304590, 32pp.
Publication Date: May 12, 2009
Description
Ahoy, puzzle-loving landlubbers Our young friend Tom needs your help. His family faces ruin after his father's trading ship was attacked by pirates who plundered all their worldly wealth. Now, a new ship is ready chase down these evil brigands, overpower and capture them, and to regain the treasure. On this voyage Tom needs shipmates just like you. Your smarts will be needed to navigate the fun puzzles on every page. Along the way, you ll learn everything about life on the high seas: from historical facts to sea tides; from the problem of rats in the hold to the choice of which foods are best for the long voyage ahead.
First, make your way to the harbor. Joining the crew, you ll have to find your way around the galleon ship. When the pirates are finally engaged in battle, your task will be to seek out the treasure map. If you succeed, you will tackle the final puzzle, crack the pirates code, and discover the treasure. Your mission will be complete. But if you fail, you will be at the mercy of these merciless mutineers.
Artist Graham White has recreated the exciting world of pirates in a series of engaging illustrations. The Search for Pirate Treasure challenges young adventurers to use cunning to navigate each maze adventure and deduction to solve the mystery of the hidden treasure. Are you ready for the challenge?
About the Author
Graham White has been creating commercial artwork since 1978.He joined Firecrest in 2000 where he is a creative writer and researcher. He has lived in the countryside in England all his life.
Advertisement