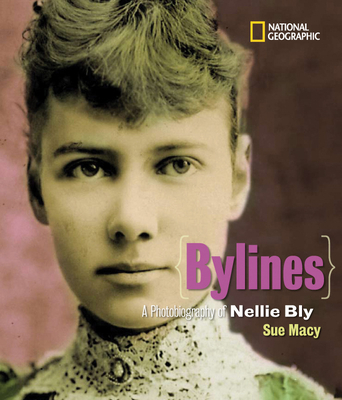 Bylines (Hardcover)
A Photobiography of Nellie Bly (Photobiographies)
National Geographic Children's Books, 9781426305139, 64pp.
Publication Date: October 13, 2009
Other Editions of This Title:
Library Binding (10/13/2009)
* Individual store prices may vary.
Description
Bylines is the latest title from award-winning biographer Sue Macy. Nellie Bly was a pioneering American journalist who lived by the belief that "Energy rightly applied and directed will accomplish anything." This credo took her from humble origins in Cochran's Mill, Pennsylvania, a town named after her father, to the most exotic cities around the globe by the time she was 25.

Nellie Bly was born Elizabeth Jane Cochran in 1864, in an age when many women led unassuming lives. Her life would make people sit up and take notice: When she wasn't making history herself, she was writing about others who did. Rarely has anyone left a more detailed record of her place in the world than Nellie Bly. In a very public life, she shared her feelings and opinions through her writing and embraced the struggles of all classes of Americans who were fighting for their rights.

The story of the two decades before and after the turn of the 20th century was her story, and she wrote with a powerful pen. Her "stunt journalism" included getting herself committed to an insane asylum for women and circling the globe in a mere 72 days. She profiled leaders from Susan B. Anthony to Eugene V. Debs, exposed corruption, and offered her readers a travelogue that expanded their horizons, even as it made the world a little smaller.

Her words live on even now, and Sue Macy's masterful biography invites young readers into Nellie Bly's America, a country at a time of great growth and social change.
About the Author
Sue Macy is the author of Bull's-Eye: A Photobiography of Annie Oakley, Winning Ways: A Photohistory of American Women in Sports, and A Whole New Ball Game: The Story of the All-American Girls Professional Baseball League, among many other titles. She has received numerous awards and starred reviews for her work. Winning Ways and A Whole New Ball Game were both named ALA Best Books for Young Adults and NCSS-CBC Notable Social Studies Trade Books for Young People.

Linda Ellerbee is a retired American journalist who cofounded Lucky Duck Productions with her husband, Rolfe Tessem. Their company is best known for its Peabody and Emmy Award–winning show Nick News. Prior to hosting this program for more than 20 years, she worked as a reporter at ABC, CBS, and NBC.
or
Not Currently Available for Direct Purchase