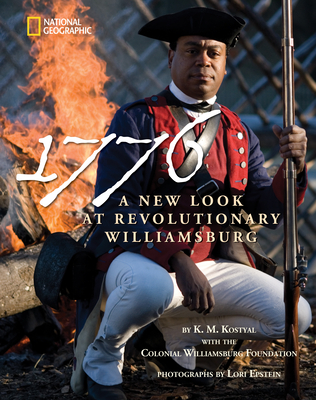 1776: A New Look at Revolutionary Williamsburg (Hardcover)
A New Look at Revolutionary Williamsburg
National Geographic Society, 9781426305177, 48pp.
Publication Date: October 13, 2009
Description
Find yourself transported to Williamsburg in the days of the Revolution See the city at war through the eyes of everyday citizens for an exciting new perspective on the historic year of 1776. The latest in the popular "New Look" line of history titles, K.M. Kostyal's 1776: A New Look at Revolutionary Williamsburg combines new scholarship with rare, powerful photographs to take readers behind the scenes at Colonial Williamsburg. Stunning re-enactment photographs of America's "Revolutionary City" brings history vividly to life: The narrative goes beyond the story of the founding fathers to give a close-up look at how the war for independence played out for ordinary citizens such as women, blacksmiths, and enslaved people. Colonial Williamsburg scholars shed fresh light on this vital era in our history with the most recent research and analysis. The book's lively design combines with the compelling photography of modern-day Williamsburg's street theater and historic interpretation to transport readers back to the heyday of colonial times. Scenes from around the city include a milliner forced to pack up shop, children at a play in a courtyard next to soldiers on patrol, and slaves wrenched from family and friends as they leave town with their Loyalist masters. This exciting, innovative book takes a new look at a familiar topic through the lives of the men and women who would claim America for their own and declare themselves its first citizens. National Geographic supports K-12 educators with ELA Common Core Resources.
Visit www.natgeoed.org/commoncore for more information.
About the Author
K.M. Kostyal has written a number of books for the National Geographic Society including Trial by Ice: A Photobiography of Sir Ernest Shackleton. Kostyal is a history buff with a fascination for the Revolutionary and Civil Wars. She lives in Washington D.C.
Advertisement