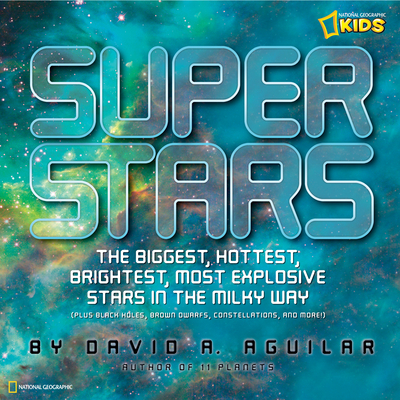 Super Stars: The Biggest, Hottest, Brightest, and Most Explosive Stars in the Milky Way (Hardcover)
The Biggest, Hottest, Brightest, and Most Explosive Stars in the Milky Way
National Geographic Society, 9781426306013, 48pp.
Publication Date: February 23, 2010
Description
Everyone knows that those bright, white dots in the night sky are stars; but how many of us really know what stars are, how they are born, how their lives affect ours, and how they die. SuperStars is a book to expand the knowledge and fire the imaginations of stargazers everywhere. Expert David Aguilar guides young readers through a galaxy of stars, including the biggest, wariest, and most explosive, not to mention star daycares and "diamonds in the sky." SuperStars is a title that will intrigue kids and bring all those mesmerizing little dots of light in the night sky to life..
About the Author
David A. Aguilar is the author and illustrator of several books from National Geographic. His 13 Planets: The Latest View of the Solar System received the Eureka! Nonfiction Children's Book Gold Award from the California Reading Association. His writings are widely recognized for their ability to communicate the wonderment of science to enthusiasts of all ages. He is the originator of the Science Discovery program at the University of Colorado, Boulder; the popular host of the Harvard-Smithsonian Center for Astrophysics Observatory Nights program; and the past director of the Fiske Planetarium.
Advertisement