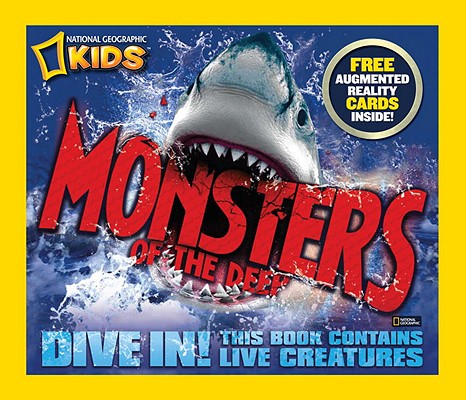 Monsters of the Deep [With 3-D Action Cards] (Hardcover)
National Geographic Society, 9781426308604, 24pp.
Publication Date: October 11, 2011
* Individual store prices may vary.
or
Not Currently Available for Direct Purchase
Description
Dive in Brand new Augmented Reality technology lends amazing 3D computer animation to this incredible look at the ocean's giant creatures. Sharks, whales, and giant squid come alive with the help of special cards packaged in the book and a simple computer camera, allowing readers to experience life under the sea as never before. Monsters of the Deep gives readers an intense close-up encounter with some of the biggest animals lurking in the ocean. Go shark diving in a cage and with the tap of a key, pull up amazing facts about the species in front of you. Augmented Reality is so new that that this book will be cutting edge in the U.S. Staying true to its heritage, of course, National Geographic brings stunning photography and fun information together with this new technology for a dynamic experience that takes readers off the page and into the deep. Even without a computer, visuals and detailed facts are so compelling that the readers will be completely drawn into the mysteries of the underwater world.
About the Author
NATIONAL GEOGRAPHIC is one of the world's leading nonfiction publishers, proudly supporting the work of scientists, explorers, photographers, and authors, as well as publishing a diverse list of books that celebrate the world and all that is in it. National Geographic Books creates and distributes print and digital works that inspire, entertain, teach, and give readers access to a world of discovery and possibility on a wide range of nonfiction subjects from animals to travel, cartography to history, fun facts to moving stories. A portion of all National Geographic proceeds is used to fund exploration, conservation, and education through ongoing contributions to the work of the National Geographic Society.
Advertisement