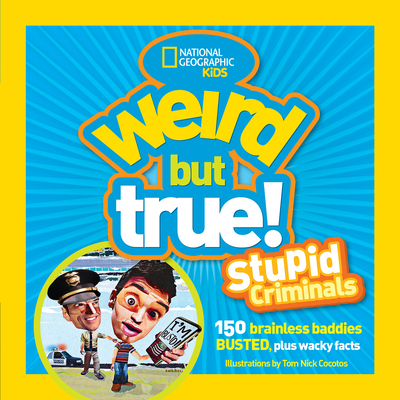 Weird But True: Stupid Criminals: 100 Brainless Baddies Busted, Plus Wacky Facts (Paperback)
Stupid Criminals: 100 Brainless Baddies Busted, Plus Wacky Facts
National Geographic Society, 9781426308611, 171pp.
Publication Date: March 13, 2012
Description
Did you hear the one about the crook who broke into a vending machine and then left a trail of cheese curls all the way to his hideout? Or the burglar who left his wallet in an apartment he robbed, and actually went back to get it? Or how about the runaway criminal who got stuck in a drainpipe? Based on the successful "Stupid Criminals Busted " column in National Geographic Kids magazine, this book is the newest extension of the blockbuster National Geographic Kids Weird But True franchise. This collection of chuckle-worthy stories about stupid criminals and the ridiculous ways they gave themselves away is illustrated with wacky collage art, and sprinkled with more than 150 weird-but-true facts about crime, including: funny laws; hilarious costumes criminals have worn while robbing banks; animal crimes and midemeanors; strange food crimes; great escapes; and more...
About the Author
Tom Nick Cocotos has illustrated the Stupid Criminals feature in National Geographic Kids magazine for six years. His illustrations have also appeared in numerous publications such as Disney, Sports Illustrated, Mad Magazine, The New York Times, and Newsweek, and many more. Cocotos, who is an adjunct professor at F.I.T. in New York, has won numerous awards for his illustrations, including the Gold Addy Award, Folio Magazine's Ozzy Awards (silver and bronze), and The Simon Rockower / Noah Bee Award, and from organizations such as American Illustration, the Society of Illustrators of New York, the Society of Illustrators of Los Angeles, and 3 Dimensional + Digital Illustrators.
Advertisement