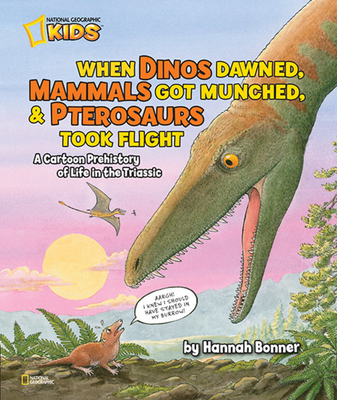 When Dinos Dawned, Mammals Got Munched, and Pterosaurs Took Flight: A Cartoon Prehistory of Life in the Triassic (Hardcover)
A Cartoon Prehistory of Life in the Triassic
National Geographic Society, 9781426308628, 48pp.
Publication Date: April 10, 2012
Description
In the style of WHEN BUGS WERE BIG and WHEN FISH GOT FEET this book discusses all the exciting developments of the Triassic Age, from the recovery of the planet from the most deadly mass extinction ever, to the first appearance of the dinosaurs. We also get to meet the first mammals, the first pterosaurs (flying reptiles), the first frogs, a host of predatory marine reptiles, early turtles, and the first coral reefs. With the books' signature blend of humor and clearly presented information, cartoon illustrations help keep the fact-filled material extra fun.
National Geographic supports K-12 educators with ELA Common Core Resources.
Visit www.natgeoed.org/commoncore for more information.
About the Author
Hannah Bonner's illustrations have graced many publications, including the bestselling Scholastic Science Dictionary and several award-winning National Geographic Kids books. She is also the author and illustrator of When Bugs Were Big, Plants Were Strange, and Tetrapods Stalked the Earth, which Booklist selected as one of its annually awarded Top 10 Science Books for Youth. To learn more, visit hannahbonner.com.
Advertisement