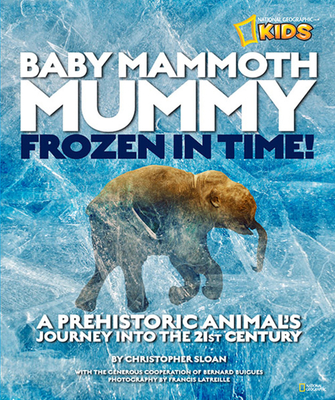 Baby Mammoth Mummy: Frozen in Time: A Prehistoric Animal's Journey Into the 21st Century (Hardcover)
Frozen in Time: A Prehistoric Animal's Journey Into the 21st Century
National Geographic Society, 9781426308659, 48pp.
Publication Date: September 13, 2011
Description
Meet Lyuba--the most perfectly preserved baby mammoth ever discovered Found lying along a riverside 31,000 years after her birth, Lyuba provides a never-before-seen view of prehistoric life in Siberia. Together with award-winning author Christopher Sloan, kids learn the story of her discovery by the indigenous Nenet people and peak inside Lyuba's mysterious prehistoric world. Readers will join scientists as they recreate Lyuba's life and death using cutting edge science--including paleontology, radiology, and forensic science--and reveal new information about mammoths and their ice age home. Lyuba's incredible story, which debuted as a National Geographic Channel exclusive and as articles in National Geographic magazine and National Geographic Kids magazine, is certain to be a fascinating read for kids and a great complement to science curriculum.
About the Author
Christopher Sloan specializes in ancient civilizations, early humans, and prehistoric life. Formerly a senior editor and director of mission projects for National Geographic magazine, he has written several children's titles that have appeared on numerous best book lists, including the School Library Journal Best Books of the Year list and the Booklist Editors' Choice list.
Advertisement