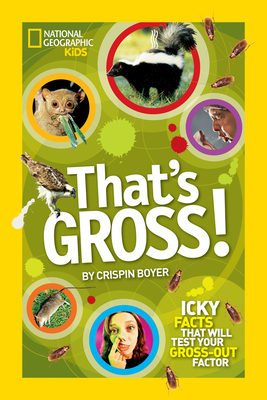 That's Gross!
Icky Facts That Will Test Your Gross-Out Factor
Paperback

* Individual store prices may vary.
Other Editions of This Title:
Library Binding (9/11/2012)
Description
Tired of having to contain your hidden urge to fart and finger-pick? Can't get enough of foul food and flies? Get ready to gross out all of your friends with these hysterically nauseating facts about all things gross and gruesome. Bringing together the slimiest, smelliest, and stickiest topics imaginable, That's Gross, is chock-full of foul facts that are guaranteed to make your stomach churn. Each chapter is packed with icky information, wacky and colorful pictures, and sickening sidebarsthat will make you say "That's Gross!" Hold on to your stomach while we explore the world of barf, bugs, boogers, and other things your parents won't like.With lively and humorous prose, high-interest subjects, and truly disgusting photos, this book will have kids glued to the page while they learn the facts, history and scientific details of "eww". Kids will be so captivated by the gross-out factor that they won't even realize how much they're learning. They might even discover that these skin-crawling truths are just a part of everyday life! Chapters include: • The History of Grossness • Your Abominable Body • Gross Animals • Gross Bugs • Dead Things • Gross Around the World • Gross Pop Culture • Everyday Grossness • Gross Fun • Glossary of GrossOther elements include the "Happy Place," featuring adorable baby animals just in case the grossness is too overwhelming; a "Gag Gauge" to rank the level of grossness of each topic; plus gross experiments, games, and more.Releases simultaneously in Reinforced Library Binding: 978-1-4263-1066-9 , $12.95/$14.95 Can
National Geographic Kids, 9781426310669, 176pp.
Publication Date: September 11, 2012
About the Author
CRISPIN BOYER is a frequent contributor to National Geographic Kids magazine. His books include National Geographic Kids Ultimate U.S. Road Trip Atlas, National Geographic Kids Everything Castles, and National Geographic Kids Everything Ancient Egypt.