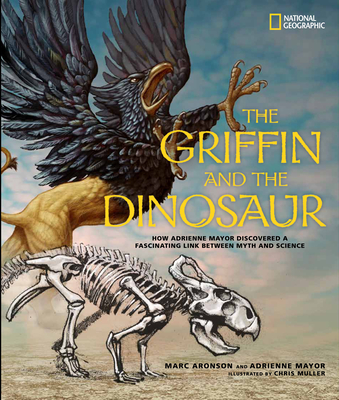 The Griffin and the Dinosaur (Hardcover)
How Adrienne Mayor Discovered a Fascinating Link Between Myth and Science
National Geographic Children's Books, 9781426311086, 48pp.
Publication Date: April 8, 2014
Other Editions of This Title:
Digital Audiobook (4/2/2015)
Library Binding (4/8/2014)
* Individual store prices may vary.
Description
Could Griffins have been real? When Adrienne Mayor carefully read the ancient Greek and Roman descriptions, this mythic hybrid of a lion and an eagle sounded like something people had actually seen. What could explain that evidence? After a decade of hunting through myths, poring over old maps, and tracing the discoveries of modern dinosaur hunters, she found the answer: awesome dinosaur fossils observed by ancient gold-hunters in the Gobi desert. Here is the story of one insightful, curious, and determined woman who solved the mystery of the Griffin, and invented a new science. Now she and others travel the world matching myths and fossils.
About the Author
ADRIENNE MAYOR is an independent folklorist/historian of science who investigates natural knowledge contained in pre-scientific myths and oral traditions. The Poison King is Mayor's latest book, and won top honors (Gold Medal) for Biography, Independent Publishers' Book Award 2010. It is a 2009 National Book Award Finalist. The History Channel's "Ancient Monster Hunters" is based on Mayor's first book. Co-author MARC ARONSON is an award-winning author and editor who earned his doctorate in American History at NYU. A prolific author, a blogger for SLJ, and an innovative thinker on children's book subjects, Marc brings deep knowledge of how kids relate to information.
Praise For The Griffin and the Dinosaur: How Adrienne Mayor Discovered a Fascinating Link Between Myth and Science…
Named a 2014 Eureka! Honor winner

"Focused through a single woman's obsessive search, this book comes off as both a riveting historical mystery as well as a wonderful example of how a person's passions might take them places they never imagined they might travel."—Fuse #8, School Library Journal

With the suspense of a detective story, the narrative details Mayor's research process as she consults with experts, conducts fieldwork, and seeks out ancienct documents, articfatcts and stories. Beyond the intriguing content of the book itself, Aronson and Mayor deliver an empowering message: that the world contains many yet-to-be-solved enigmas, and there's more than one way to crack a (dinosaur) egg." --Publishers Weekly