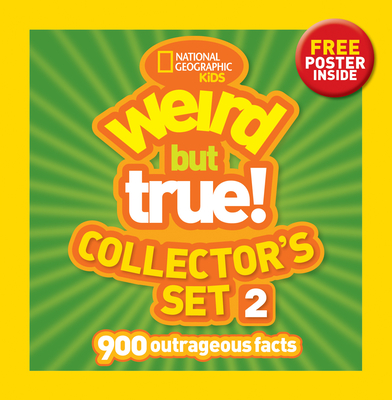 Weird But True! Collector's Set 2: 900 Outrageous Facts [With Poster] (Boxed Set)
900 Outrageous Facts [With Poster]
National Geographic Society, 9781426320118, 624pp.
Publication Date: September 23, 2014
Description
Get volumes 4, 5, and 6 of the incredibly popular Weird but True series in one out-of-this-world collector's set, featuring three times the trivia and eye-popping photos At last, all those weird-but-true facts that kids love are collected in this fun-tastic set of compact books. Fascinating information and lively art combine to make irresistible brain candy for young readers. Kids will have such a good time that they won't even realize they're learning Did you know that lemons can power lightbulbs, or that some goats climb trees? The creators of National Geographic Kids, the nation's most popular kids' magazine, present the second Weird but True Collector's Set. Its 900 wacky, wild, mind-bending facts cover everything on Earth and beyond, including animals, food, science, pop culture, outer space, geography, weather, and more They will so wow family and friends that you won't be able to stop turning the pages of this brainteasing treat.
About the Author
NATIONAL GEOGRAPHIC KIDS inspires young adventurers to explore the world through award-winning magazines, books, website, apps, games, toys, television series and events and is the only kids brand with a world-class scientific organization at its core.
Advertisement