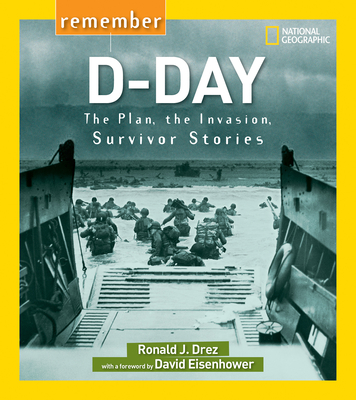 Remember D-Day (Paperback)
The Plan, the Invasion, Survivor Stories
National Geographic Children's Books, 9781426322457, 64pp.
Publication Date: July 14, 2015
Other Editions of This Title:
Hardcover (5/1/2004)
Library Binding (7/14/2015)
Library Binding (5/1/2004)
* Individual store prices may vary.
Description
Remember D-Day combines compelling narrative, dramatic archival photographs and memorabilia, detailed maps, and a timeline to bring readers the exciting story of one of the world's most daring invasions. This landmark book will provide children with valuable insight into the significance of the invasion and help them understand D-Day in the overall context of the war.
About the Author
Ronald J. Drez has a master's degree in history from the University of New Orleans and is an assistant director and research fellow at the university's Eisenhower Center. He worked closely with the late Stephen Ambrose to interview D-Day veterans for Ambrose's Band of Brothers and for his own book Voices of D-Day, which as awarded the George Washington Honor Medal from Freedom's Foundation at Valley Forge. He is also the author of Twenty-Five Years of War and has written and edited numerous magazine articles about World War II. As President of Stephen Ambrose Historical Tours, he regularly leads tours to Normandy and other World War II battle sites. A highly decorated marine combat veteran of the Vietnam War, Drez lives in New Orleans with his wife. He has four children and eight grandchildren.